Those interested in applying for the Rotary International Visa Signature Credit Card will find all information necessary to do so on this webpage. However, before applying, it would be wise to go over some of this credit card's features to ensure we know what we're getting into here. Let's start by taking a look at the interest rates. For balance transfers and net purchases, your APR, which is based on your creditworthiness, will be somewhere between 13.24% and 23.24% (APR is subject to change). As far as bonuses go, you can receive a $100 cash reward when you spend $500 within the first 90 days. You will also be able to earn back a percentage of what you spend with the cash back rewards program. With the rewards program, you can earn 3% cash back on gas for the first $2,500 in combined qualifying purchases each quarter, 2% cash back on your grocery bill, and 1% cash back on all other net purchases. If that wasn't enough for you, you'll be happy to know that this card comes with no annual fee and that for each purchase you make, a portion will be given to the The Rotary Foundation at no additional cost. To learn how you can apply, scroll down to our tutorial below.
Be sure to read over Bank of America's privacy policy to see how the personal information you submit will be used.
Requirements
In order to be approved for this card, the following requirements must be met:
You are at least 18 years of age
You are at least 21 years of age if you reside in Puerto Rico
You are a resident of the United States or one of the approved US territories
You have a valid SSN
How to Apply
Step 1- To begin the application process for the Rotary International Visa Signature Credit Card, navigate to this webpage. Once there, scroll down to the U.S. Rotary Credit Card heading and select the Apply link to proceed.

Step 2- Here on the application form, you should see the About you heading. Just below it, the following information must be supplied:
First name
Last name
Phone number
E-mail address
Physical address
City
State
Zip code
Country of residence
Specify if you would like your statements sent to a different address
Housing status
Monthly housing payment
Step 2- Next, supply your Social security number, Date of birth, Mother's maiden name, Country of citizenship, and specify your citizenship status.

Step 3- Regarding the details About Your Job, use the drop-down menu to indicate your Employment Status. If you are employed, supply your Company name or employer, Years in occupation, Occupation, and your Work phone number.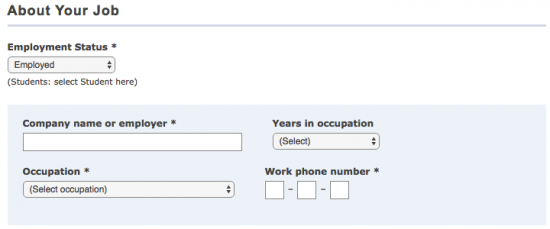 If you are currently a student, some additional information is asked of you. Provide the following data in the appropriate fields:
School name
Student status (part time/full time)
Years in school
Graduation date
Street address
City
State
Zip code
Company name or employer
Job status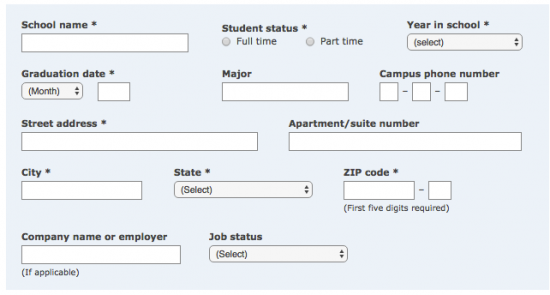 Step 4- At this juncture, simply supply your Total annual income and your Source of income.

Step 5- Here you are able to consolidate your previous balances by performing a balance transfers. You will also be able to add an authorized cardholder to your account if you so wish.

Step 6- Before submitting your card request, take a moment to read over the terms and conditions for this credit card. If you are in compliance with Bank of America's terms, click Continue to proceed.
Step 7- Scroll down to the bottom of the page and locate the small box pictured below. This box must be checked in order to provide consent to Bank of America's terms and conditions. When you are certain that each of the above steps has been completed correctly, click Submit Application to have your card request sent in to Bank of America for review.

Congratulation on making it to the end of the application procedure. We hope that you found this tutorial beneficial and that it enabled you to navigate through the application forms with ease. Best of luck!