The Sandals Resorts Visa Signature Card is the perfect credit option for those who love to vacation. Cardholders will be rewarded for their travels as points will be given on all Unique Travel Corp, Beaches Resorts and Sandals Resorts purchases. The way the point system works is this; 1 point will be rewarded for each $1 charged to the card and 2 points will be given when spent on qualifying travel purchases. These points can be saved and put towards your next Sandals or Beaches vacation (points last 5 years). An additional 10,000 points will be awarded to you after making your first purchase, providing that it was made within 90 days of activating the card. Apart from the point based rewards program, this card is fairly standard and has an APR for purchases of 13.24%-23.24% depending on your creditworthiness (APR is subject to change). The application process is quite simple and can be understood fully by reviewing the below tutorial. Scroll down to get started!
Before submitting your application, take a moment to review Bank of America's privacy policy to learn how they plan on using your personal information.
Requirements
You are at least 18 years of age
You are least 21 years of age if you reside in Puerto Rico
You have a valid SSN
You are a US citizen
How to Apply
Step 1- You can apply for the Sandals Resorts Visa Signature Card by navigating to the application webpage. Once there, scroll down until you see an image like the one displayed below. Click Apply Now to proceed.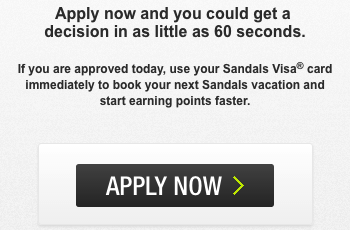 Step 2- At the beginning of this page, use the drop-down menu to select your preferred card image. Note that your selection will not effect your interest rates or rewards.

Step 3- Under the Personal heading, the following information is required:
First name
Last name
Full address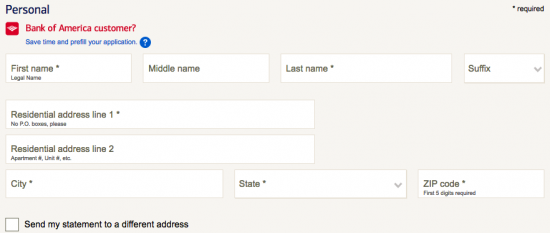 Step 4- Continue by providing your Primary phone number, Email address, Country of citizenship, Country of residence, Date of birth, and your Mother's maiden name.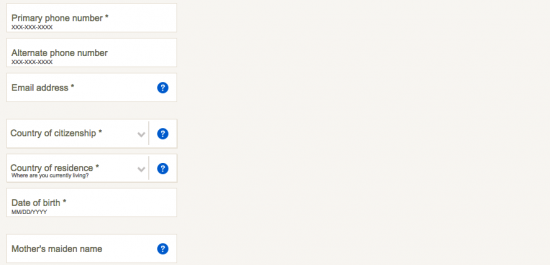 Step 5- Use the drop-down menu found under Employment & finances to indicate your Employment status. Just below that, specify your Occupation, Years with employer, Company name or employer, and your Work phone number. If you are a student, specify your student status, Years in school, and indicate whether or not you are also employed by selecting Yes or No.


Step 6- Here, supply your Total annual income, Source of income, Liquid assets, Housing status, and Monthly housing payment.

Step 7- At the bottom of the page, you should see the terms and conditions for this credit card. Take a moment to review this document to get a full understanding of exactly what it is you'll be applying for. If you are in compliance with Bank of America's terms, check the small box below the terms window to provide consent. Click Review your information to proceed.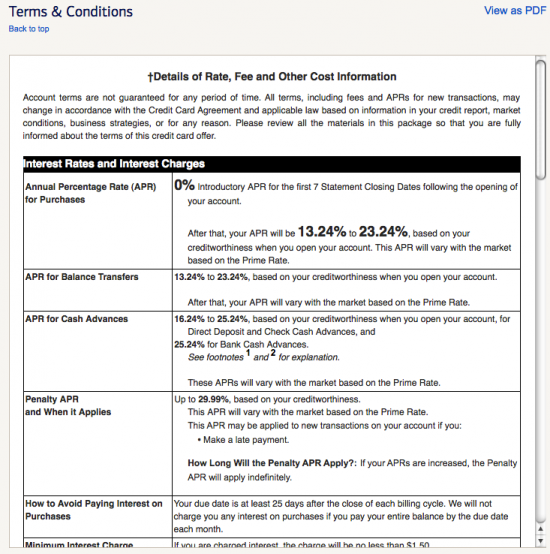 Step 8- This page provides you with a complete review of the information you've supplied so far. If you are confident that everything was supplied correctly, click Submit to have your card request sent in to Bank of America for assessment.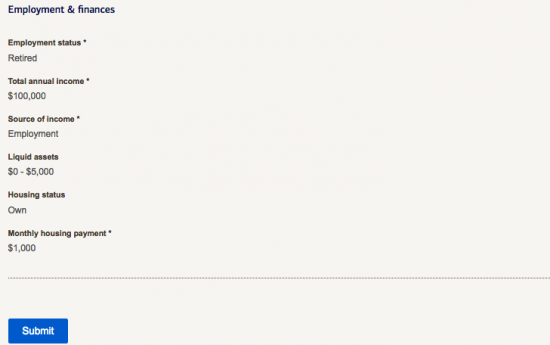 That's all there is to it! We here at Card Reviews want to thank you for choosing us as your card specialist and we wish you the very best in all of your future banking endeavours. Best of luck!