Frequent guests at Diamond Resorts will surely be interested in their branded Mastercard credit card. If you would like to apply please first familiarize yourself with the privacy policy of Barclaycard, the company powering the mechanics of this particular credit card. Within the policy they specify in what ways exactly the private information you share with them will be disseminated to other corporations and government institutions and how your contact info may be used for future solicitation.
Requirements
Barclaycard has specific requirements for applicants that you should ensure that you meet before embarking on an application.
Be at least 18 years of age
Have a valid US street address
Have a valid Social Security number
How to Apply
To reach the application form you must go to this webpage and click the 'apply now' link.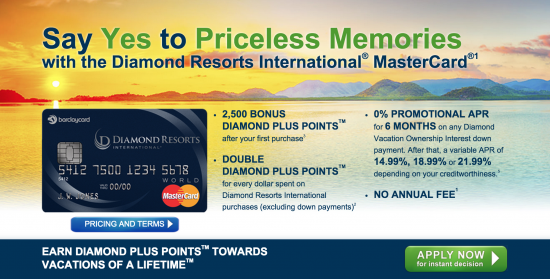 Step 1- General Information
The application begins with a form requiring some basic personal information. The exact information you will need to enter is as follows:
Full name
Address
Residence status
Duration at provided address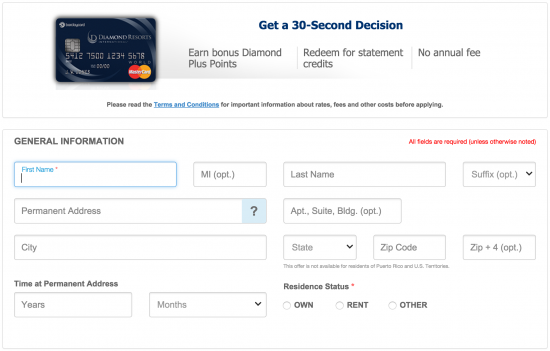 Step 2- Employment and Financial Information
At this point you will have to enter some financial information in order for Barclaycard to formalize a financial profile to better evaluate your creditworthiness. You will need to provide your annual income, your occupation, and a small list of assets.

Additionally, you can decide to pay for expedited shipping ($15) for your card pending your approval.
Step 3- Contact Information
Barclaycard requires at least one phone number and a functional email address in order to proceed with the application.

Step 4- Security Information
Here is where you enter your security credentials in order for Barclaycard to confirm your credit report. You will need to provide your social security number and your date of birth, as well as your mother's maiden name, in order to continue with the application.

Step 5- Paperless Statements
You can opt, if you like, to enrol in electronic billing to avoid wasting paper and mailmen's time at this point.

Step 6- Balance Transfers
Barclaycard offers a service by which you can transfer the existing balance on any major credit card onto the Diamond Resort card if you so choose. To do so simply enter the card number and the desired amount ($100-$20,000) that you wish to transfer.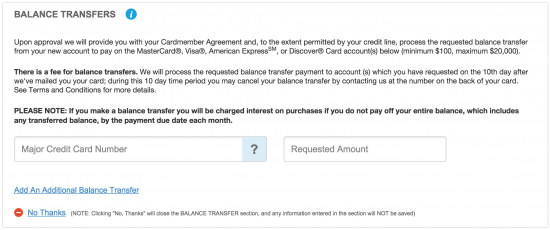 Step 7- Legal Terms and Conditions
All that's left to do is read over the Terms and Conditions carefully in order to be sure that they comply with your financial circumstances and moral compass.