Bring the outdoorsmen inside you to the fore with the L.L. Bean Credit Card. Applying for this card is a simple process streamlined by credit powerhouse Barclaycard, and to make things even easier we have provided a brief tutorial below to help out any stragglers.
Requirements
Before beginning the application ensure that you meet all of the following requirements:
Be at least 18 years of age
Have a valid US mailing address (no PO boxes)
Have a valid Social Security number
Love hiking (jk)
How to Apply
In order to apply you must first go to this webpage and select the 'Apply Now' link which will redirect you to the secure form.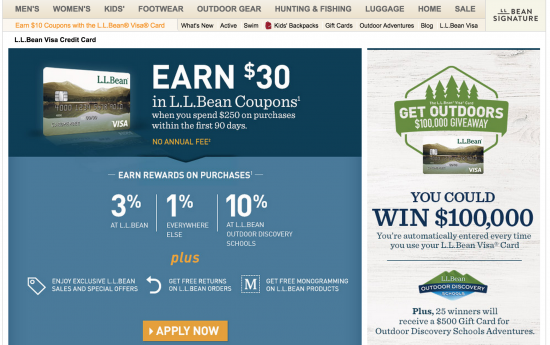 Step 1- General Information
Let's get this application off the ground. First you'll have to enter some basic personal information to help L.L. Bean and Barclaycard identify you. The specific information you'll need is what follows:
Full name
US address
Duration at current address
Residence status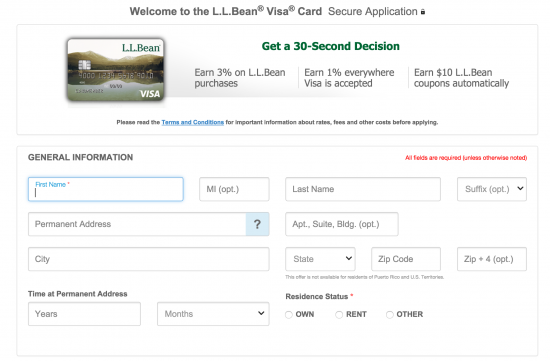 Step 2- Employment and Financial Information
You will have to give L.L. Bean a basic financial profile so that they may determine you creditworthiness, and thus your APR. The information you will need to have on hand is just what follows:
Occupation
Annual Income
Bank Assets

You have the option at this point to sign up for a $15 express delivery of your card, assuming you are fully approved.
Step 3- Contact Information
You will have to give Barclaycard some contact information, at least one phone number and a functioning email address. As with all of your information, there are specific rights that Barclaycard give themselves to capitalize upon this information, the least of which is reserving the right to solicit you through the provided contacts. In order to more fully understand their usage of your private data please read over their privacy policy here.

Step 4- Security Information
You are now asked to provide some additional identification information (Social Security number, birthdate, mother's maiden name) so that Barclaycard can access your credit history in order to more accurately evaluate you.

Step 5- Paperless Statements
At this point L.L. Bean asks you to choose your preferred method of billing- paper or electronic. We encourage electronic billing for environmental reasons and for simplicity's sake.

Step 6- L.L. Bean Email Updates
L.L. Bean gives you the option here to opt in for (or out of) promotional emails. This is unusual, and it only furthers L.L. Bean's reputation as an upstanding business.

Step 7- Balance Transfers
Barclaycard allows you to transfer an existing balance (between $100 and $20,000) from any major card you may already own onto your new card. If you are interested in doing this then simply enter the information for the card and the desired amount you wish to transfer.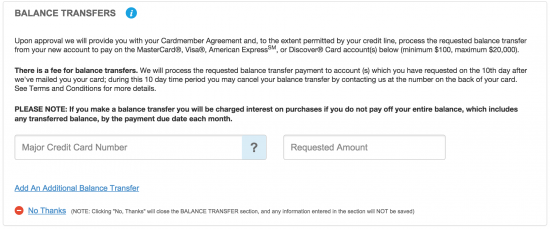 Step 8- Legal Terms and Conditions
All you have to do now is read the Terms and Conditions and decide, finally, if the L.L. Bean Credit Card is truly for you. Do the terms seem fair? Do they agree with your current financial situation? Great! Submit the application and start shopping.