If you are interested in acquiring a Wyndham Rewards Visa Credit Card you must complete a short application hosted by Barclaycard and thus subject to their privacy policy. The application, broken down below, requires you to give Barclaycard sensitive personal information. It is for this reason we encourage all applicants to read over the privacy policy linked above carefully to find out just how Barclaycard intends to use your information.
Requirements
Ensure that you meet the listed requirements Barclaycard has put forward:
Be at least 18 years of age
Have a valid US street address
Have a valid Social Security number
How to Apply
In order to reach the application page you must first navigate to this page and, once there, click the 'apply now' link. Also, keep in mind that there are two options provided by Visa, the first has a $69 annual fee but offers much more earning potential with more generous rewards programs. The second has no annual fee but offers less. The applications for both cards are identical.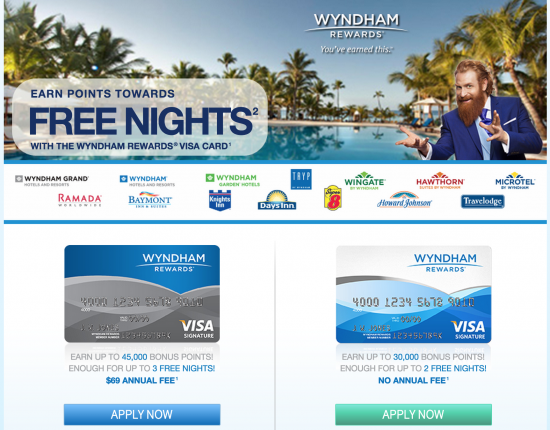 Step 1- General Information
Enter your full name, address, residence status, and duration at your current address.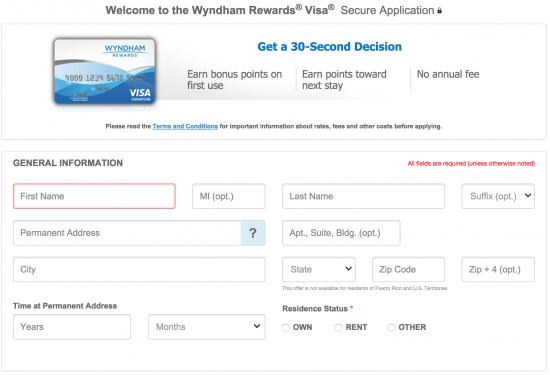 Step 2- Employment and Financial Information
This is the section by which Barclacycard will primarily evaluate your creditworthiness by. Make sure the information you enter is truthful and current. You will need to provide an occupation, annual income, and a list of bank account types.
You can also at this point purchase a $15 express delivery option for your future card, should you be approved.
Step 3- Contact Information
Enter at least one phone number and a valid email address at this point to allow Barclaycard to contact you regarding your account.

Step 4- Security Information
The information required for this section (social security number, mother's maiden name, birthdate) is meant to help Barclaycard confirm your credit report.
Step 5- Paperless Statements
You have the chance to opt for paperless statements at this point in the application, a move we approve for its environmental sensibility and ease-of-use.

Step 6- Wyndham Rewards Member Number
If you are already a member of the Wyndham rewards program then you may enter your membership information at this state of the application in order to have the number etched into your future card.

Step 7- Balance Transfers
You are allowed by Barclaycard to transfer an existing balance (between $100 and $20,000) from any major credit card onto your new rewards card if you so choose. At this point you may perform this switcheroo as long as you have your existing card number handy.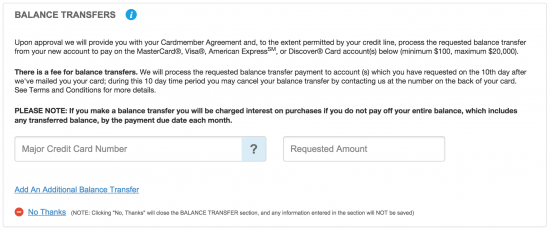 Step 8- Legal Terms and Conditions
Review carefully the Terms and Conditions and, if they seem fair to you and make sense given your current financial circumstances, submit your application!