Applying for the Holland America Line Rewards Visa Credit Card is a simple process powered by Barclaycard and subject to their specific privacy policy. For a step-by-step tutorial on applying for this card please scroll down and follow the instructions we've laid out for you.
Requirements
This, and every, credit card has a specific set of requirements, beyond being a cruise buff, that the applicant must meet before he/she can be deemed eligible for a card. For this card they are as follows:
A valid US Social Security number
Being at least 18 years of age
Having a US Street Address
How to Apply
In order to reach the secure application page you must first navigate to this page and click the 'apply now' link.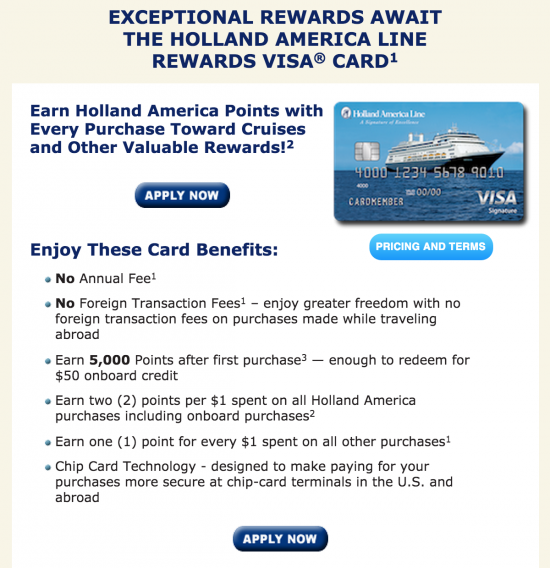 Step 1- General Information
For this, the first of the steps, Barclaycard asks you to provide some general, personal information. If you are wary at all of how the associated corporations intend to use your private date we encourage you to take one more look at Barclaycard's privacy policy. This section specifically asks for the following information:
Full Name
Address (including duration)
Residence Status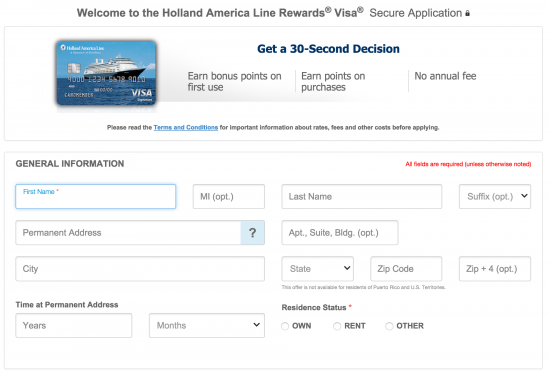 Step 2- Employment and Financial Information
This is the section by which Barclaycard will predominantly be judging you in order to asses your creditworthiness. You will be asked to divulge information in regards to your annual gross income, your bank accounts and other assets. Also, at this stage of the application, you have the ability to opt for an express delivery of your new card, should you be approved, for the sum of $15.

Step 3- Contact Information
Here you are asked to submit the methods by which Barclaycard will be able to contact you. In all likelihood they reserve the right to solicit you with offers at any provided contact, so please read the Terms and Conditions to find out just how they plan on using your contact information.

Step 4- Security Information
This is the most sensitive data you will be asked to supply- Social Security Number, Mother's Maiden Name, and your Birthdate.

Step 5- Paperless Statements
You can opt for paperless statements at this point to reduce bureaucratic entangling and environmental waste.

Step 6- Employee Name/Number
This is an optional feature for if you are applying with the aid of a Barclaycard employee in person.

Step 7- Balance Transfers
If you would like to transfer a balance (min. $100, max. $20,000) from another major credit card onto the new Barclaycard credit card you may do so at this point in the application. Simply enter the desired card's information and move on. Keep in mind this is totally optional.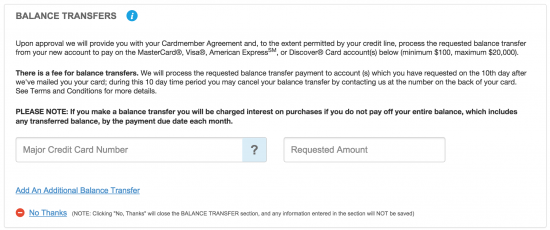 Step 8- Terms and Conditions
The final and most vital part of the application is a thorough reading through of the Terms and Conditions to ensure that the card is compatible with your current financial circumstances.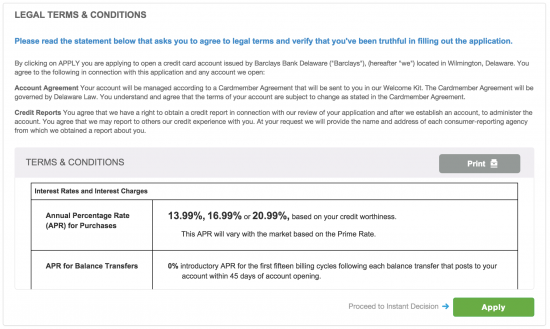 If everything is agreeable and all of the information you've provided is up-to-date and accurate then click apply. Barclaycard offers a service by which you can track your application on this page.