The Wyndham Rewards Visa Credit Card is offered by Visa and Wyndham Hotels and is powered by Barclaycard. Despite a $69 annual fee, the card offers a 30,000 point bonus on signup, which, according to Wyndham and Visa, is enough for a 2 nights stay at one of the Wyndham properties.
Cardholders receive points for any purchases they make and can receive cash back or other rewards when they redeem their points.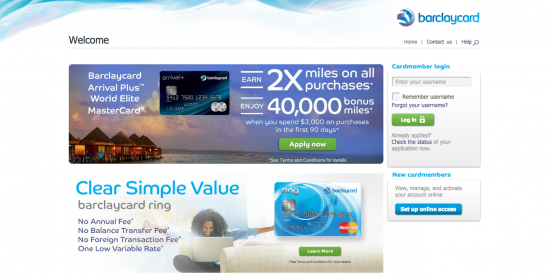 Make a Payment
Cardholders can make payments online with the Wyndham Rewards Visa Credit Card's online card management function. Simply head to the link provided by the "Secure Login" link and enter your username. Click "Log In" and you will see your personal details.
Once logged in, you can make payments, adjust your account settings, update your address, order a new card if you lose yours, and view prior transactions.
Activation
If you've come to this page looking for information on how you can securely activate your card, read on for instructions on how to do so. On the page you can access by clicking the link above, you must fill in the following information about yourself:
Social security number
Date of birth
Account number
Whether or not you are a U.S. citizen
A username of your choice
A password (must be at least 8 characters in length)
All of the above information ensures that you are who you say you are and prevents those with malicious intent from accessing your account and stealing your information. When you are finished the form you can click "Continue" and move on to using your Wyndham Rewards Visa Credit Card online as you please.