Do you or someone you love have the home-decor fever? You may be interested in applying for the Williams-Sonoma Credit Card. The Williams-Sonoma Credit Card is powered by Barclaycard, a company with a extensive and specific privacy policy that you can review by clicking the previous link. As you enter your personal information into this application keep in mind that your information may be used by Barclay for other purposes.
Requirements
Make sure you meet the following requirements before making application
Be at least 18 years of age
A valid US street Address
A valid Social Security number
How to Apply
The application page is available once you find your way to this page and click on the apply now icon.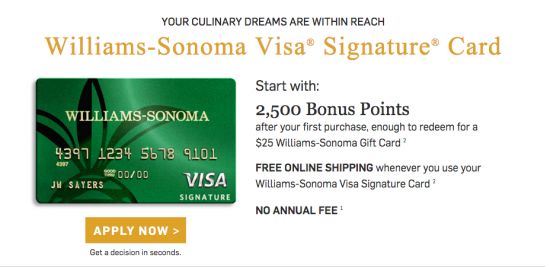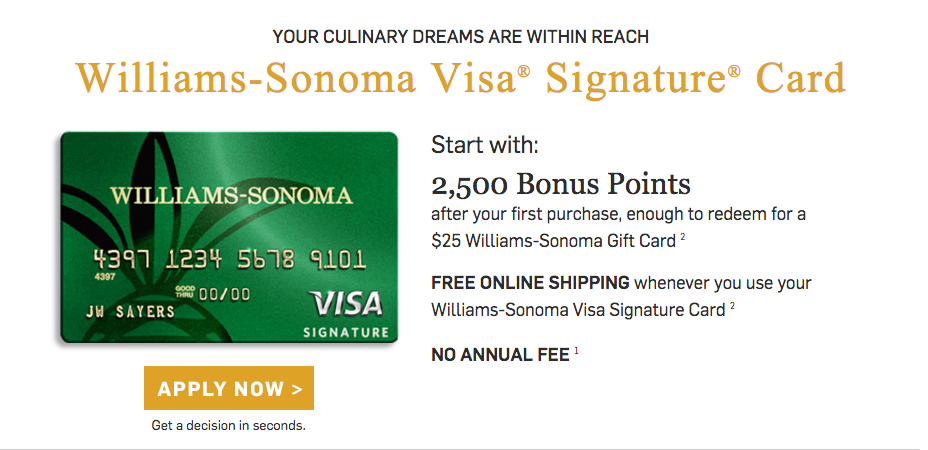 Step 1 – Personal Information
First and last name
Permanent address
Residential Status

Step 2 – Employment and Financial Information
In order to create a financial profile Barclay requires the specified financial information
Occupation
Total Annual Income
Bank Account Category

Step 3 – Contact Information
At this point in the application process you will need to enter a valid phone number and E-mail address in the following section.

Step 4 – Security Information
For security reasons you will need to enter your date of birth, Social Security number and your mother's maiden name.

Step 5 – Paperless Billing Statements
If you chose to do so, paperless billing statements are available upon request at this point in the application process.

Step 6 – Legal Terms and Conditions
At this point you can review the Terms and Conditions for the specified card. Upon completion of your application you may then hit the apply button and await your approval.