Sandy Spring Bank has been around for well over a century, providing clients with whatever financial support they require. One of their approaches to financial aid is offering the Sandy Spring Bank Secured MasterCard. If you have bad credit, or if you're at square one and want to get a head start on building good creditworthiness, you might consider applying for this credit card. This card is designed to establish or improve the cardholders credit and it does so by allowing them to provide a deposit in the amount of your choice (between $300 and $5,000). The deposit is there to ensure any skipped payments on your end are covered by the funds you gave to the bank. This way it's virtually impossible to miss a payment and, if you maintain a good payment history, you can gain your deposit back in as little as 11 months. There is an annual fee of $19 attached to this card, but that's a small price to pay for good credit. The APR is 20.24%, which is pretty high so make sure you're spending within you limit and making your payments on a regular basis (APR is subject to change). If you would like to start building your creditworthiness, you can follow our online application tutorial below to acquire a Sandy Spring Bank Secured MasterCard.
Read through First Bankcard's privacy policy to inform yourself on how they might use your personal information.
Requirements
Before applying for this credit card, make sure you meet the following criteria:
Applicants must be 18 years of age or older
Applicants must have a valid social security number
Applicants must have a valid US address
How to Apply
Step 1 – To start the application process, click on this link to get to the Sandy Spring Bank personal credit card page. Underneath the image of the credit card is an Apply Now button. Click on it to continue.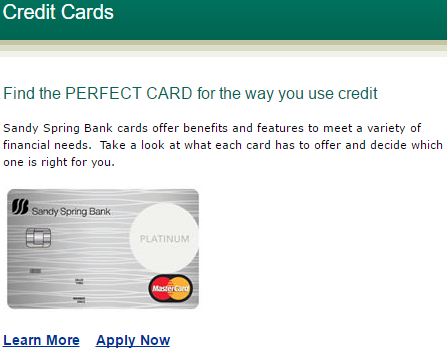 Step 2 – There is a notification that will pop up asking if you wish to navigate away from Sandy Spring Bank's web portal. It is safe to click Yes. Once you have, the First Bankcard credit card page will load and you can scroll down to the Sandy Spring Bank Secured MasterCard. Click on the Apply Now button to get to the next step.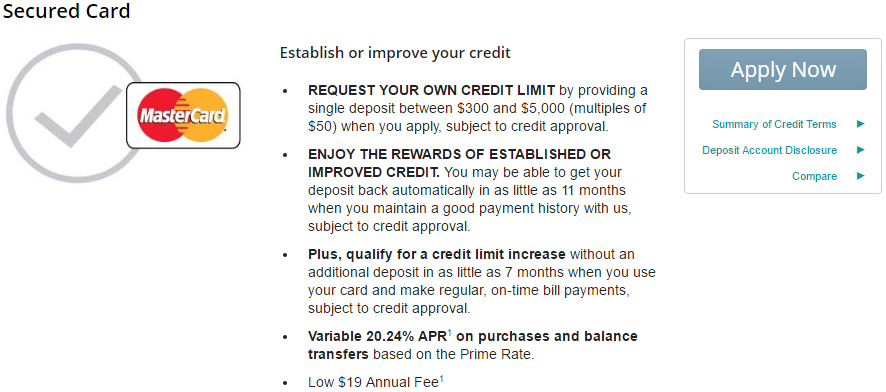 Step 3 – The first part of the application form will have you filling out the following personal information:
First Name
Last Name
Physical address
City
State
Zip code
Home phone number
Email address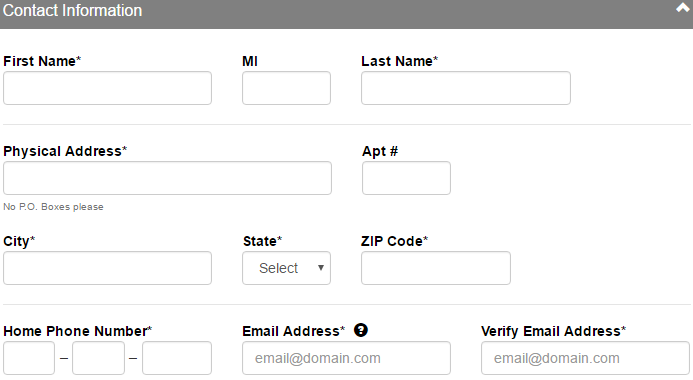 Step 4 – Next, you're asked to confirm your identity by providing your Date of Birth, Social Security Number and Mother's Maiden Name.

Step 5 – You will also be required to enter the number of Years at Address, Housing Status and Monthly Housing Payment.

Step 6 – Some financial information is also required of you. Enter your Present Employer, Business Phone Number and Total Annual Income in the fields provided.

Step 7 – They give you the option to add an Authorized User at this juncture. Should you wish to add an additional cardholder to the account, enter their name. If not, skip this step.

Step 8 – This is where you need to choose how much your credit limit will be. You can enter anything between $300 and $5,000, as long as it is a multiple of $50. Enter the amount of the deposit and tick the Account Type it will be withdrawn from. Then enter the Routing Number and Account Number and verify those two numbers in the appropriate fields. Click Continue to proceed.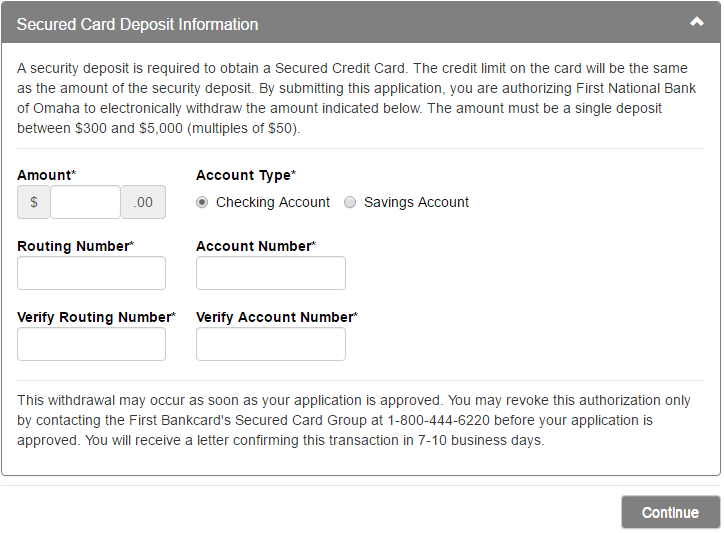 With the application form all filled out, you will need to read and accept the terms and conditions before submitting the form for approval. Hopefully these instructions have helped you reach your goal of applying for the Sandy Spring Bank Secured MasterCard. Best of luck in your approval!