If you are an alumni of Southern Illinois University, and you just so happen to be in the market for a new credit card, the Southern Illinois University Alumni Visa Credit Card may interest you. With this card, not only will you be representing your alma mater, but you will be supporting the university with a portion of every purchase. The interest rate is quite reasonable, at an assigned rate of 12.49% to 18.49%, depending on your creditworthiness (APR is subject to change). Regardless of what your assigned interest rate is, you will get a 1.99% introductory APR for the first 6 monthly billing cycles after your account is opened. If your application for this card is successful, you will also enjoy a cash rewards program in which you will receive 1% cash back per $1 spent on every purchase. You will also get 2% or 3% cash back for purchases in select categories (up to 2,500 points per month). The points that you acquire never expire, and there is no limit on the number of points you can obtain. Your cash rewards points can be redeemed either for cash back, or for special Commerce Bank rewards. Find out how to apply online by following the below tutorial.
The Commerce Bank is the credit card issuer for this particular credit option. Before you submit your personal information onto their website, check out their privacy policy to learn a bit more about how they use your information.
Requirements
To be eligible for this credit card you must meet the following requirements:
Be at least 18 years of age
Have a valid US mailing address
Have a US SSN
How to Apply
Step 1 – To access an online application, go to the Southern Illinois University Alumni Visa Credit Card summary page and click the Apply Now link.

Step 2 – Before you start your application, you will be required to read the terms and conditions for this card. To proceed, you must agree to the conditions and indicate that this is the case by clicking I Agree.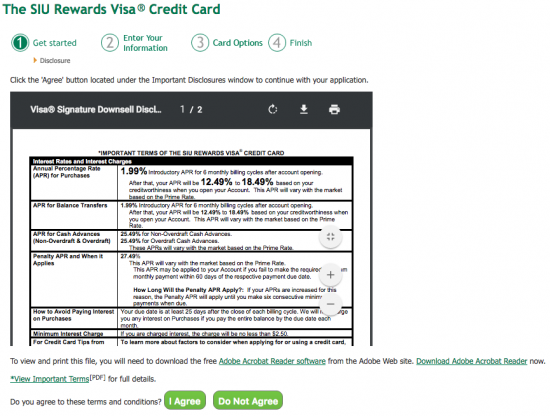 Step 3 – Start to fill out your application by providing all of the information listed below into the Applicant General Information section.
Full name
Complete mailing address (including city, state, and ZIP code)
Home phone number
Email address
Time at address
Date of birth
SSN
Mother's maiden name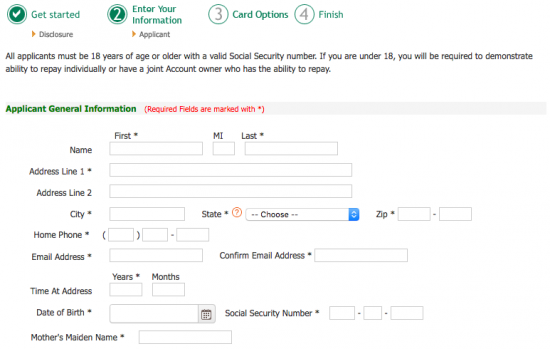 Step 4 – To help determine your eligibility, you will now need to enter the following information:
Occupation or position
Employer
Time with employer
Work phone number
Total annual income
Other income (enter "0.00" if not applicable)

Step 5 – In the Housing Information section, you will need to select either Rent, Own, or Other in regards to your current housing situation. If you selected Other, you have to provide a brief description of your situation in the indicated blank space. Below these fields, enter your Monthly Housing Payment where indicated.

Step 6 – At this juncture, you will need to provide the full name and relationship of the nearest relative not living with you. Next, select Yes or No to indicate if you have declared bankruptcy in the past 10 years, or if you are a permanent U.S. resident. When you have completed these fields, click Next to continue to the next step.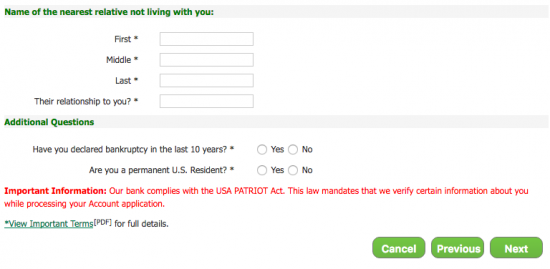 Step 7 – In this step, you can add a co-applicant to your application by selecting Yes and supplying the required information. If you are not adding a co-applicant, select No. When you are done, click Next.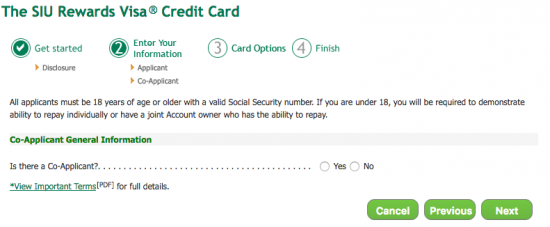 Step 8 – Now, before you submit your application, you have the option to consolidate your previous balances on one bill, to connect this card with an existing Commerce Bank account, and to add overdraft protection to your account. Select Yes or No to indicate if you would like to apply any of these options. When all of this is done, click Submit.
Congratulations! If you made it this far, and you followed all of the above steps, your application has been completed and submitted for review. You can expect to receive a response within 10 to 14 business days.

That brings us to the end of our tutorial. We hope that it has been of some assistance in completing your application, and thank you for visiting this webpage. Good luck!