The Commerce Bank, the card-issuer for the Southern Illinois University Alumni Visa Credit Card, has made it easy for owners of this card to manage their account online. Through the online banking services provide through their website, cardholders can check their balance, pay their bills, manage their rewards, and more. Below you will find simple instructions on how to access this service, and also how to activate a new card (if you have not already done so). You can also use this webpage to learn how to access your newly registered account, see the guide directly below to find out how to log in should you need assistance. Scroll down to get started!
Before entering your personal and financial information on their webpage, take a look at the Commerce Bank online privacy policy.
How to Login
To log into your online account, you will need to go to the Commerce Bank credit card login page and locate the login window. Once there, enter your Customer ID and click Log In to proceed to the next step.

You will then be required to enter your Password in the indicated field and click Log In. You should now have access to your online banking homepage."

If you have forgotten your password, click the Forgot Your Password? link found in the second login window and enter the following information on the next page:
Customer ID
Last 4 digits of SSN
Last 4 digits of credit card number
3 digit security code
Click Continue. In the subsequent windows you will be able to reset your password, and in turn log into your account once again. If you are experiencing any other difficulties logging in, call the customer support line at 1 (800) 986-2265.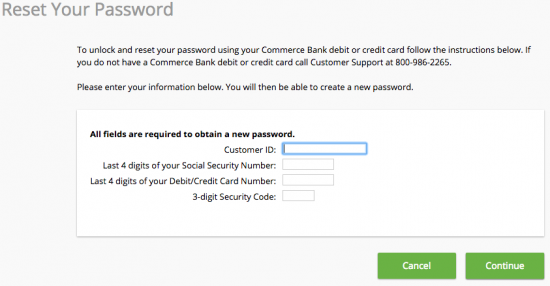 Activation/Registration
To activate a new credit card, call the number provided above and get your card up and running with the assistance of a customer service agent. Once your card has been activated, you can enroll in online banking by clicking the Secure registration link found above this paragraph. After following the link, you will need to read the online banking terms and conditions (displayed below) and click Accept.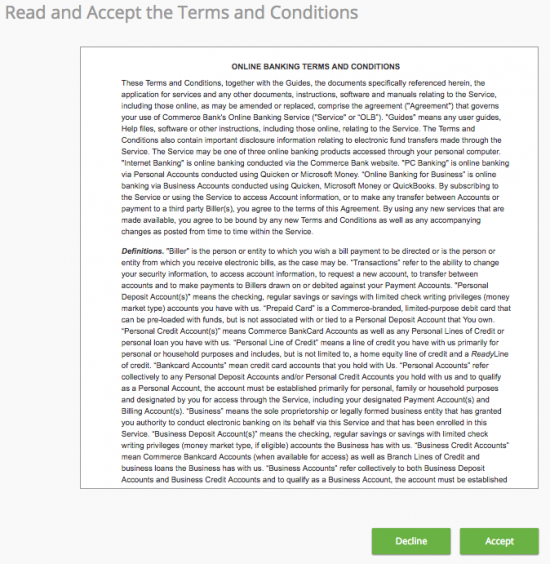 On the next page, select Credit Card and click Continue. Next, you will need to enter the following information where indicated:
SSN
Credit card number
Credit card security number
Name as it appears on the card
Amount of last payment
Zip code
Email address
After completing that information, select Yes or No to indicate whether you would like to enroll in electronic statements, enter your Enrollment Code (optional), and click Continue.
In the subsequent pages you will need to create your customer ID and password. Once you have completed the enrollment process, you will be able to access your new online banking account. We hope you enjoy the convenience of online banking!