The Southern Methodist University Alumni Credit Card offers SMU alumni an opportunity to support their university with every purchase while enjoying a cash back rewards program. The reward program includes 1% cash back for every dollar spent, and 2% or 3% bonus points on qualifying purchases (up to 2,500 points per month) in select categories. Cash back rewards can be thought of as rebates on your purchases, so with this rewards program, you're essentially saving money every time you use your card! The assigned APR for this card ranges from a fairly low APR of 10.49% to a high one of 20.49%, and it will be based on your creditworthiness (APR is subject to change). Therefore, it would be useful to know your credit score before you consider applying for this card. If want to apply for the Southern Methodist University Alumni Credit Card, scroll down and follow our step-by-step tutorial on how to complete an online application for this card.
Before proceeding, we recommend that you read the privacy policy of the card-issuing financial institution, Commerce Bank.
Requirements
To be eligible for this credit card you must meet the following requirements:
Be at least 18 years of age
Have a valid US mailing address
Have a US SSN
How to Apply
Step 1 – For you to access an online application for this card, you will need to go to the Southern Methodist University Alumni Credit Card summary page and click the red Apply Online Now link.

Step 2 – Before continuing, you will be required to read the terms and conditions for this card and agree to them by clicking the green I Agree link.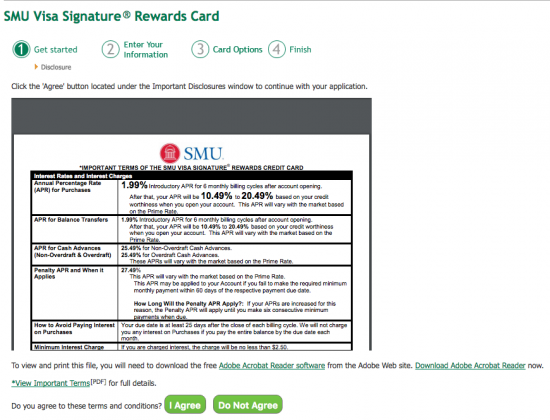 Step 3 – Now, you should be on the application page. Begin filling it out by providing all of the following information as indicated:
Full name
Complete mailing address (including city, state, and ZIP code)
Home phone number
Email address
Time at address
Date of birth
SSN
Mother's maiden name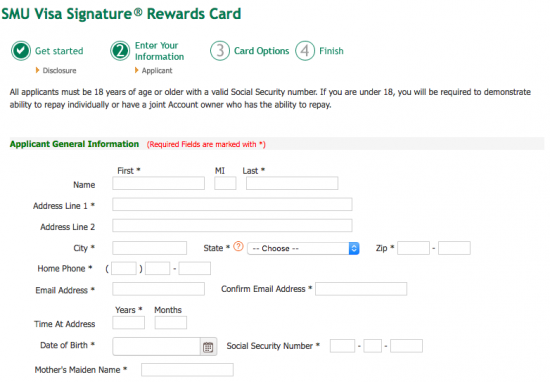 Step 4 – Next, you will need to enter the information listed below into the Applicant Employment Information and Applicant Financial Information sections.
Occupation or position
Employer
Time with employer
Work phone number
Total annual income
Other income (enter "0.00" if not applicable)

Step 5 – In the Housing Information section, indicate your housing situation by selecting the appropriate option. If you selected Other, you you will need to type a description what your housing situation is. Next, beside Monthly Housing Payment enter your monthly rent or mortgage payment.

Step 6 – You will need to provide the full name and relationship of the nearest relative (not living with you) where indicated in the form (see example below). Below that, you will see two questions. Select Yes or No to each to indicate if you have declared bankruptcy in the past 10 years, or if you are a permanent U.S. resident. Having completed this page of the application, click Next.
Step 7 – In the next page, you have the option to add a co-applicant to your application. Select Yes or No to indicate whether or not you want to do this. When you have finished this step, click Next to continue.

Step 8 – In this final step, you must select Yes or No to decide whether or not you would like to perform any of the following actions: consolidate your previous balances on one bill, connect this card with an existing Commerce Bank account, or add overdraft protection to your account. Finally, if you have completed all of the pages of the application to your satisfaction, click Submit.



That's all there is to it! We hope that our guide has helped you to successfully complete and submit your application, You can expect a response within the next two weeks. Good luck!