The Southwestern Oklahoma State University Credit Card is by all means a decent credit card, one which allows Southwestern Oklahoma State University graduates to support their alma mater with a portion of every credit card purchase. You will find that the APR is reasonable, ranging from an assigned rate of 12.49% to 18.49% depending on what your credit score is (APR is subject to change). Something of note, is that with no annual fee, you get a standard cash back rewards program of 1% cash back per $1 spent on all purchases. Not only that, but you will also receive 2% or 3% cash rewards points on select monthly categories. For the first 6 monthly billing cycles after account opening, you will also have the almost non-existent 1.99% introductory APR. Would you like to apply for this card? If so, follow our step-by-step tutorial below to find out how to send in a request. Scroll down to get started.
Before continuing, read the Commerce Bank privacy policy (the card-issuing company) to understand how they use the information that you submit online.
Requirements
To be eligible for this credit card you must meet the following requirements:
Be at least 18 years of age
Have a valid US mailing address
Have a US SSN
How to Apply
Step 1 – To get started, go to the card summary page and click Apply Now.

Step 2 – Now, read the terms and disclosures contained within the card disclosures and indicate that you agree with them (if indeed you do) by clicking the I Agree button.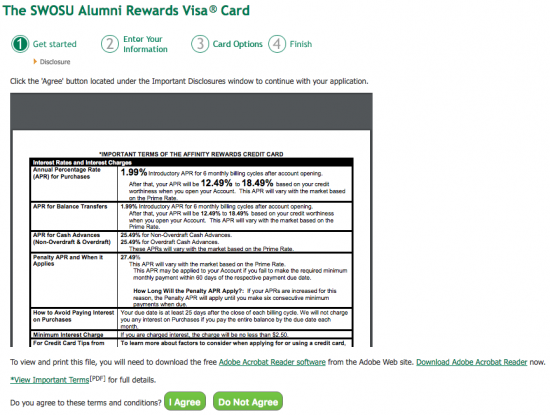 Step 3 – You should now be on the application page. Enter all of the information listed below into the Applicant General Information section.
Full name
Complete mailing address (including city, state, and ZIP code)
Home phone number
Email address
Time at address
Date of birth
SSN
Mother's maiden name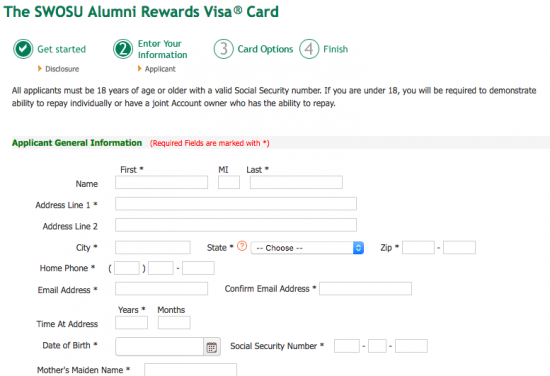 Step 4 – In the Applicant Employment Information and Applicant Financial Information sections you must type all of the following employment and financial information:
Occupation or position
Employer
Time with employer
Work phone number
Total annual income
Other income (enter "0.00" if not applicable)

Step 5 – At this juncture, you will need to select Rent, Own, or Other to indicate what your current housing situation is. If you selected Other, type what your situation is in the indicated space. Where it says Monthly Housing Payment, enter your monthly rent or mortgage payment.

Step 6 – Next, enter the First, Middle, and Last name of the nearest relative not living with you and describe their relationship to you in the indicated space. Then, answer the two Additional Questions by selecting Yes or No. When you've completed filling out this page of the application, click Next.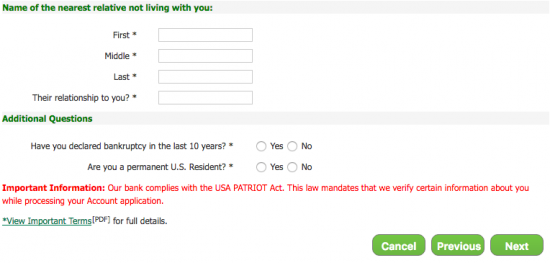 Step 7 – If you would like to add a co-applicant to your application, you may do so in this step. Otherwise skip ahead. When you are ready, click Next to continue.

Step 8 – Now, you must select Yes or No to apply any of the following actions to your applications: to consolidate your previous balances on one bill, connect this card with an existing Commerce Bank account, or add overdraft protection to your account. When you are completely finished your application, click Submit.

Your application has been submitted to Commerce Bank for review, you should receive correspondence from them soon which will acknowledge whether or not you've been accepted. We hope that our little tutorial has made this whole process as painless as possible and we wish you the best of luck with the results of your application.