For those of you who love to shop at Stein Mart, you're shopping experience just might improve with the Stein Mart Platinum MasterCard. This credit card earns users 1 point for every $1 spent, not just at Stein Mart but everywhere MasterCard is accepted. Once you've racked up 1,000 points you'll earn a $10 reward certificate. Unfortunately, there are limits to this program. Cardholders can earn a maximum of 10 certificates per billing period, meaning that there's a $100 cap, and these points are only redeemable at Stein Mart stores. The other downside of this credit card is there is no introductory interest rate offered, and the APR offered is very high at 26.24% (APR is subject to change). Although there is no annual fee attached to this card, there are many more credit cards that present far superior rewards programs with lower interest rates. Another important thing to note about the Stein Mart credit cards is the joint application form. Applicants, if approved, will be given either the Stein Mart Credit Card or the Stein Mart Platinum MasterCard, both of which are provided by Synchrony Bank. Since only the latter has a rewards program attached to it, cardholders receiving the other credit card will be most disappointed. To summarize, this particular store-brand credit card, while potentially intriguing at first glance, ultimately lacks any semblance of merit. However, if you are interested in applying, follow our step-by-step instructions below to apply for your Stein Mart Platinum MasterCard today.
It would be wise to look through the privacy policy provided by Synchrony Bank, to familiarize yourself with their terms of information sharing.
Requirements
To be eligible for this credit card, applicants must meet the following criteria:
Applicants must be 18 years old
Applicants must have a valid US address
Applicants must have a valid Social Security number
Applicants must have a valid driver's license
How to Apply
Step 1 – Navigate to the Stein Mart credit card page and click the Apply Now button, found on the right side of the page.

Step 2 – The application form consists of a series of empty fields in which you must supply the necessary personal and financial information. First, you must enter the following information about yourself:
Name
Address
City
State
Zip code
Phone number and type
Email address
Annual net income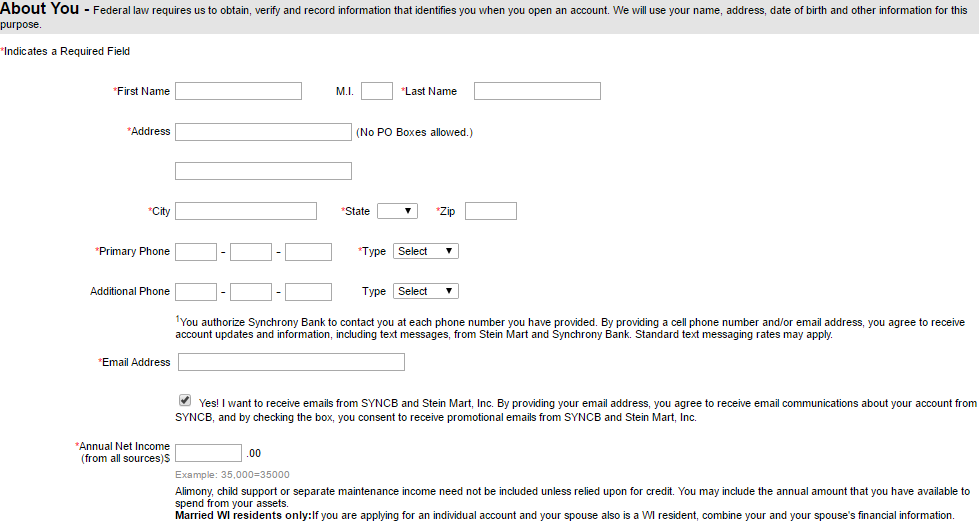 Step 3 – Next, select how you would like to receive your credit card statements; by email or by regular mail. Tick the circle next to either Electronic Statements or Paper Statement, then continue to the next section.

Step 4 – Synchrony Bank needs to verify your identity, so enter your Date Of Birth, SSN/ITIN, Driver's License Number, State (of driver's license) and your Mother's Maiden Name.

Step 5 – The last step consists of you reading the terms and conditions and selecting the box proving you agree with these terms. Click Accept and Submit to submit your form for review and to finalize your registration process.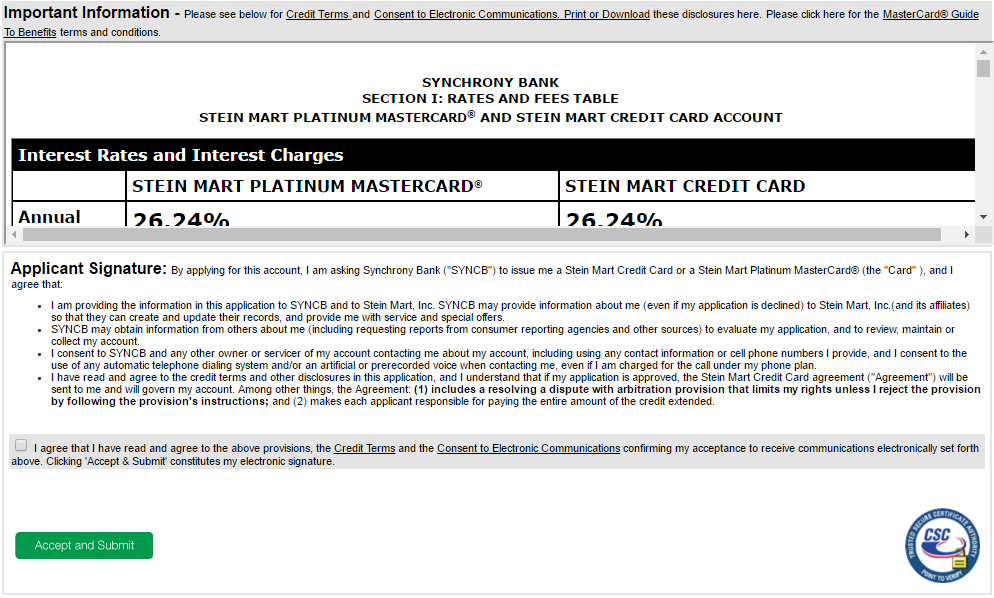 With the application form sent out, you can sit back and await your approval. We hope these instructions were clear and concise, and hope you will be receiving your new Stein Mart Platinum MasterCard shortly. Best of luck!