Commerce Bank makes it easy for cardholders of the Stephen F. Austin Alumni MasterCard to oversee their credit card accounts online. By providing a flexible and secure web portal, Commerce Bank ensures that cardholders can make payments, complete transfers and check statements anytime, from any computer. They have recently improved their online banking site, but some still might find it hard to navigate through their web portal without a little bit of help. That's where we come in. If you follow our instructions below, we'll have you signed up and logged on in no time. We also provide instructions on how to activate your new Stephen F. Austin Alumni MasterCard.
Commerce Bank provides a privacy policy for those interested in learning how they might share personal and financial information.
How to Login
To commence the login process, click on this link to navigate to the Commerce Bank credit card account access page. On the left side of the page is an Online Banking Login box. Type your Customer ID into the empty field and click Log In.

Next, you are asked to provide your Password. Commerce Bank allows users to choose which page they'd like to be directed to once they've logged in. You may select your choice from the drop down menu and it will be your default page every time you login, until you change it again. Once you've chosen your desired default page, enter your Password and click Log In. Assuming the ID and password were entered correctly, you should be looking at the main page of your online banking account.

If you're having trouble remembering your password, you can always click the Forgot Your Password? link next to the password field. This link will direct you to another page where you'll be asked for a few pieces of information to reset your password. Provide your Customer ID, the Last 4 digits of your Social Security Number, the Last 4 digits of your Debit/Credit Card Number and the 3-digit Security Code. Click Continue and further instructions will be given to you which will enable you to reclaim your forgotten password.
Activation/Registration
If you've just received your new Stephen F. Austin Alumni MasterCard in the mail, you're probably quite anxious to start using it. Before you can start spending, you'll first have to get your card activated. Call the number above to activate your credit card with help from a Commerce Bank customer service representative. Once that task is complete, it's time to enroll for an online banking account. Click the Secure Registration link below the activation number to begin the enrollment process. The first page that you're directed to asks that you to read the terms and conditions and click Accept if you agree with them.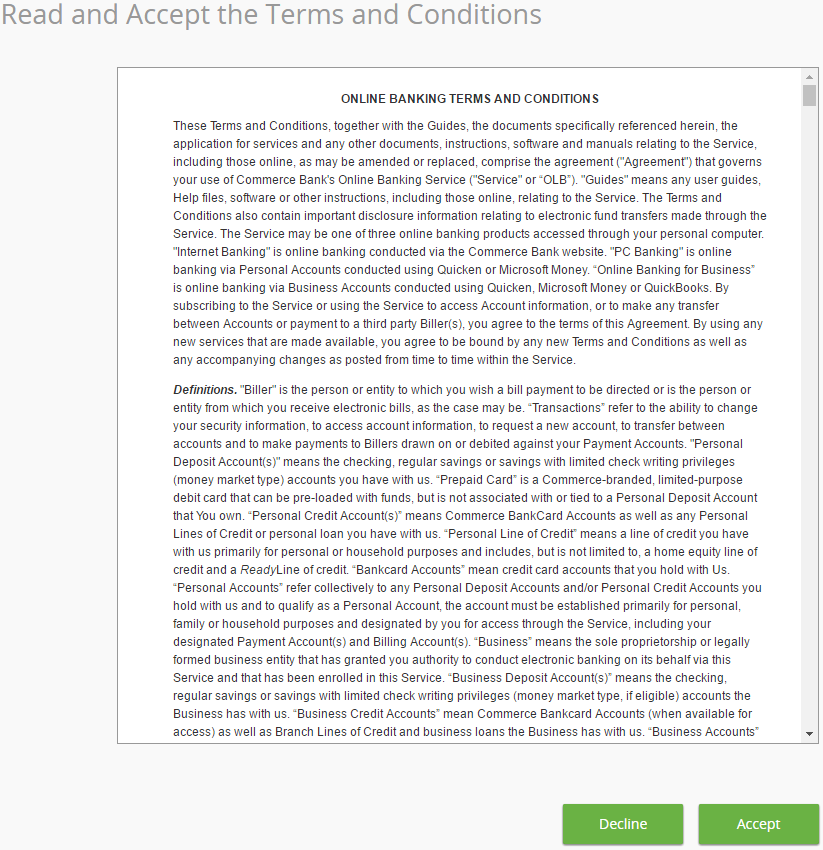 On the next page, select the type of account you wish to use for online banking, then click Continue.

To register for an account, you are asked to provide the following information:
Social Security number
Account number
Credit card security number
Name as it appears on card
Amount of last payment (enter $0 if you haven't made one yet)
Zip code
Email address
Click Continue once you've entered all the information correctly. The remainder of the account set up will have you creating a customer ID and password, which will be used from here on out to log into your account.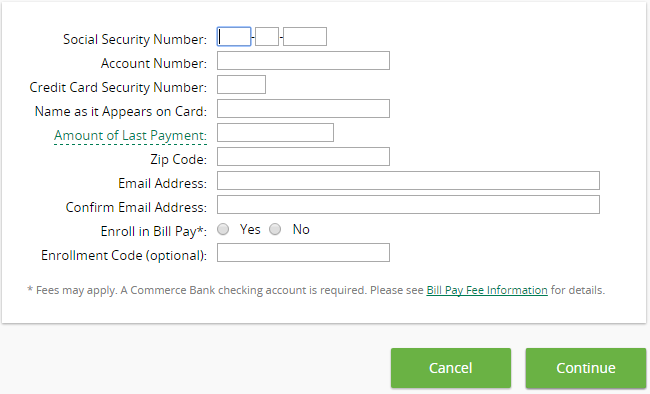 Hopefully these instructions have proven useful to you, and that you've got your card activated and your new online banking account created with as little trouble as possible. Happy banking!