Cardholders of the Florida Nurses Association Visa Rewards Card can manage their credit card finances online by enrolling in online banking through the card-issuing company, Commerce Bank. Through a Commerce Bank online account, users are able to view their statements, manage their rewards points, pay their bills, look at their past transactions, update their personal information, amongst many other account management functions. If you already have an online banking account with Commerce Bank, but have some questions about logging in, consult our login guide below. If you need to activate a new card and/or enroll in online banking, scroll further down this page to the Activation/Registration section.
Before you submit any sensitive information, we recommend that you read through the Commerce Bank privacy policy.
How to Login
To access your online banking account, you will need to find your way over to the Commerce Bank login page. From there, enter your Customer ID and Password into the login window and Log In to be directed to your personalized online account.

If you happen to have forgotten your password, you will need to reset it in order to regain access to your account To do this, click the Forgot Your Password? link (in the login window). On the next page, you will need to provide your Customer ID, the Last 4 digits of your Social Security Number, the Last 4 digits of your Debit/Credit Card Number, and your 3-digit Security Code before clicking Continue. By following the instructions in the next step, you will be able to reset your password and regain access to your account.

Activation/Registration
There are two ways to activate a new card, either over-the-phone, by calling the customer service number that we have provided above, or online, by accessing the credit card activation page and providing the last four digits of your social security number or tax identification number and the 16-digits account number that appears on the front of your card. After providing the required information, clicking Activate will activate your credit card.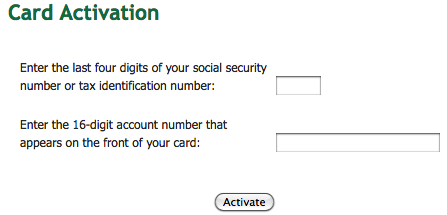 After activating your card, you can enroll in online banking by clicking the Secure Registration link found above the activation number and clicking the Activate Now link found near the bottom of the page.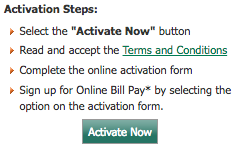 Next, you will need to read the online banking terms and conditions and agree to them by clicking the Accept button.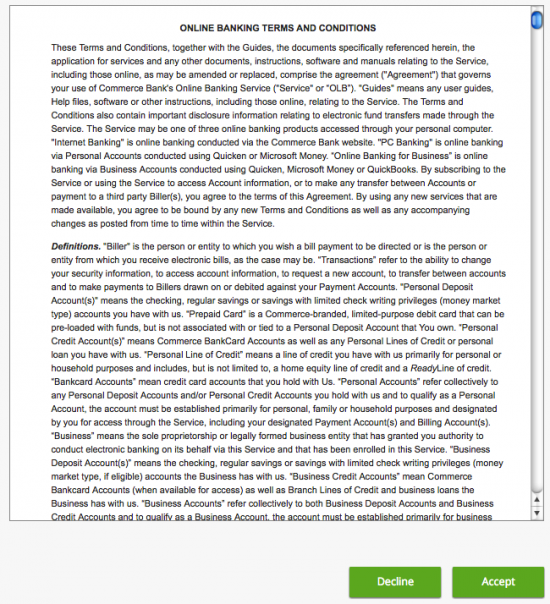 Now select Credit card and click Continue.

To verify your identity and your account, you must provide all of the information listed below.
SSN
Account number
Credit card security number
Name on credit card
Amount of last payment
Zip code
Email address
Confirm email address
Enroll in bill pay (y/n)
After entering the necessary information, click Continue and by following the instructions in the steps that ensue, you will be able to complete your enrollment. We hope that our guide has assisted you in successfully activating your card and signing up for online banking with Commerce Bank. Happy banking!