Online banking with The RMEF Rewards Visa Card is possible through Commerce Bank's secure online portal. By creating an online account, you will be able to access some helpful features that Commerce Bank has provided to assist you in managing your finances. You can easily review and print your bank statements, pay off your balance, transfer funds, and otherwise stay on top of your credit card all from your computer or smart phone. By following the instructions found within our tutorial below, you will be able to activate your credit card, enroll in online banking, and log into your account. Scroll down to get started!
Before submitting any sensitive information online, take a moment to review Commerce Bank's privacy policy.
How to Login
You can access your online banking account by first navigating to this webpage. On the Commerce Bank login page, enter your Customer ID and Password into the blank fields. Once your login credentials have been provided, click Log In to access your personalized banking account.

If you have forgotten your password and are unable to login, click on the Forgot Your Password? link located to the right of the login fields. On the following page, enter-in your Customer ID, the Last 4 digits of your Social Security Number, the Last 4 digits of your Debit/Credit Card Number, and your 3-digit Security Code. Once entered, click Continue to proceed and, on the subsequent page, follow the instructions to recover your password.

Activation/Registration
In order to use your credit card to bank online or make everyday purchases, your card will need to be activated. This process can be accomplished on Commerce Bank's online portal. On the card activation webpage, supply the last four digits of your social security number or tax identification number and the 16-digits account number that appears on the front of your card. Click Activate once you've supplied the requisite information and your card will be ready to go. Alternatively, you can activate your card by calling the number posted above this paragraph and following the instructions provided over the phone.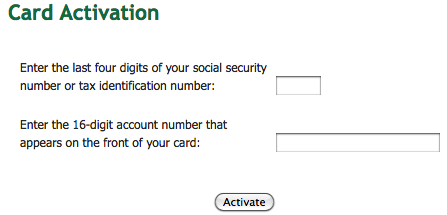 With your card activated, you may now begin the enrollment process for an online banking account. Click here to access Commerce Bank's main banking webpage. There you should see the Online Banking Login menu. From the three available links found under the login field, click Activate Online Banking.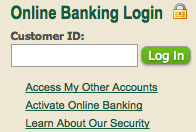 Under the Activate Online Banking with Online Bill Pay heading, scroll down and select the Activate Now link to proceed.

Here you should see Commerce Bank's online banking terms and conditions. Read this document over before clicking Accept to continue.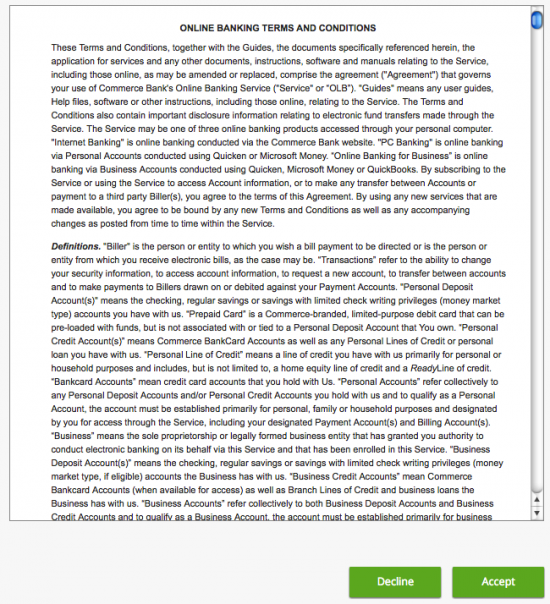 Specify the type of account you have with Commerce Bank by selecting one of the four available options. In this instance, we will be selecting Credit card. Click Continue after making your selection.

This page requires you to specify some personal details. In the empty fields, the following information must be provided:
SSN
Account number
Credit card security number
Name on credit card
Amount of last payment
Zip code
Email address
Confirm email address
Enroll in bill pay (y/n)
With your personal information provided, click Continue to proceed. The following pages will have to setting up your account by deciding on a customer ID (user name) and password before completing the enrollment process. That's all there is to it! Your online banking account should be set up and ready for use. Thank you for choosing Card Reviews and best of luck with your new account!