The Arbor Day Foundation Rewards Visa Credit Card is distributed and governed by Commerce Bank, who offers clients access to their credit card accounts through their online portal. This web portal is designed to give cardholders the flexibility and control needed to complete all banking tasks, such as making payments and transfers, checking statements and setting up account alerts. Commerce Bank makes it quite easy for cardholders to oversee their finances but if you're not very familiar with online banking, you may have some difficulty with the enrollment process. To relieve you of these technological headaches, we've provided a guide through both the login and registration processes, and we've covered how to activate your new Arbor Day Foundation Rewards Visa Credit Card. Scroll down and read through our short tutorial below to set up your online account today.
It's good to read through the privacy policy provided by Commerce Bank to learn how they might use your personal or financial information.
How to Login
First, navigate to the Commerce Bank credit card access page. Next, enter your Customer ID in the field provided and click Log In.

You are asked to provide a Password to go along with your customer ID. Enter your password in the field provided and select your default load up page. To do this, pick one of the options from the drop down menu and tick the box next to Make this my default page. Click Log In and you should be looking at the default page of your online banking account.

There is a simple procedure you can follow if you have forgotten your password. Click the Forgot Your Password? link beside the field where you would normally enter your password. You must provide your Customer ID, Last 4 digits of your Social Security Number, Last 4 digits of your Debit/Credit Card Number and 3-digit Security Code. Click Continue and on the following page you will be able to create a new password and in turn regain access to your online banking account.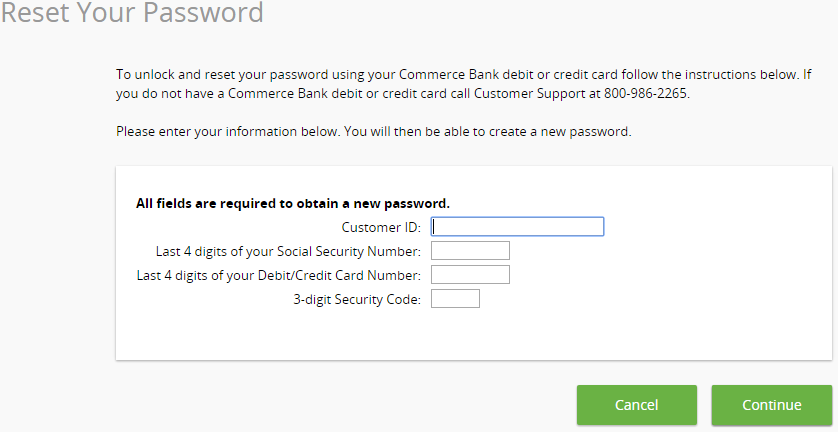 Activation/Registration
Those of you receiving your Arbor Day Foundation Rewards Visa Credit Card for the first time will find it most convenient to activate it right away. To activate your card, call the number we have provided above. Now that the activation process is complete, let's get you registered for a Commerce Bank online banking account. To start the enrollment process, click the Secure Registration link below the activation number. You are immediately prompted to read through the online banking terms and conditions and, if you agree to them, click Accept to continue.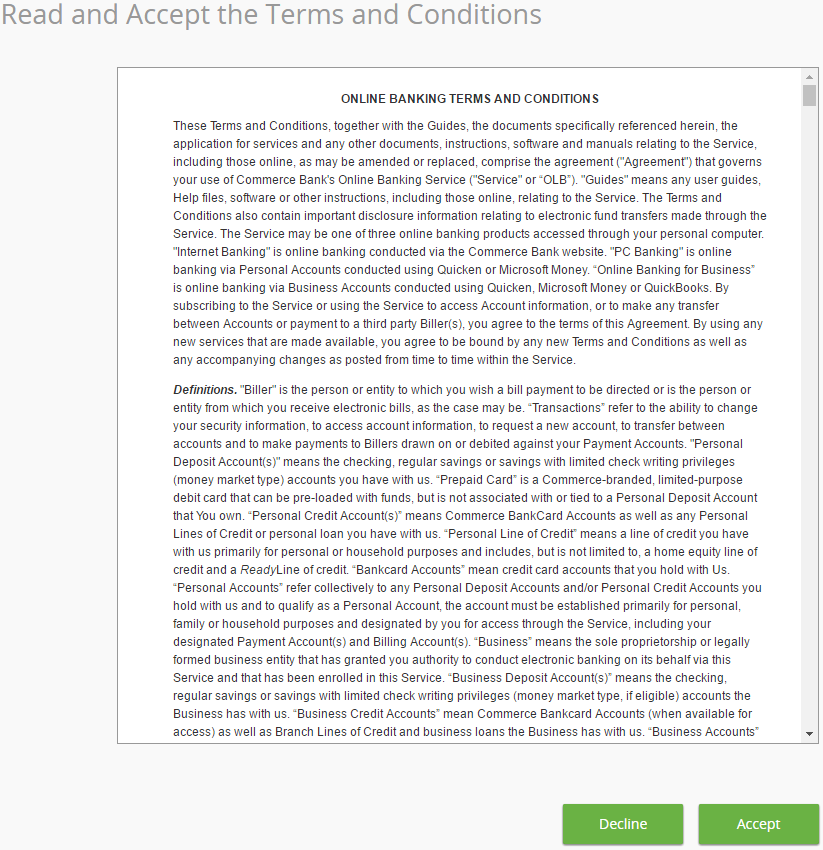 At this juncture, you must select the type of account for your online banking. Select Credit Card from the list and click Continue.

Next, you are asked to enter the following information in order to verify your identity:
Social Security number
Account number
Credit card security number
Name as it appears on card
Amount of last payment (enter $0 if you haven't made one yet)
Zip code
Email address
Review the information you've just entered and click Continue. On the subsequent pages you will be asked to create login credentials for your account and you will be given further instructions that will lead to the completion of the enrollment process.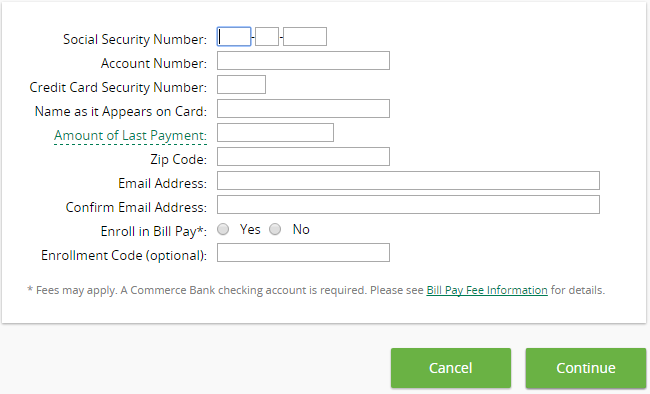 Now that you've activated your card and set up an online account, you can start taking advantage of the modern banking world. Happy banking!