Trees are one of the most important factors of our ecosystem, providing oxygen, stabilizing the soil and allowing the world's wildlife to survive; including us humans. Making the world a cleaner and greener place is not easy, but Arbor Day Foundation is helping the cause, one tree at a time. One way to take a step in the right direction is to acquire an Arbor Day Foundation Rewards Visa Credit Card, where every new account provides the Arbor Day Foundation with $50. Not only that, but every time you use your card, Commerce Bank (the card-issuing company) will make additional contributions to the foundation. This credit card is not just about giving, it's also about receiving. With a cash back rewards program, cardholders receive unlimited 1% cash back on all purchases, plus special promotional offers earning users 2% or even 3% cash back on select products. Cash back can be redeemed for gift cards, travel, merchandise or, if you prefer, statement credit. A 1.99% introductory APR is offered for the first 6 billing cycles after opening the account on purchases and balance transfers. After that, a competitive APR between 12.49% and 18.49% is applied (APR is subject to change). The penalty APR for this card is quite high (27.49%) and will be applied should you fail to make the minimum monthly payment within 60 days of the due date. This card has no annual fee attached to it so not only are you providing the Arbor Day Foundation with financial support, you're also not paying anything for it. To apply for the Arbor Day Foundation Rewards Visa Credit Card today, follow the short tutorial we have posted below.
You might want to read through Commerce Bank's privacy policy before submitting any personal or financial information in the application form.
Requirements
Make sure you fit into the following categories before applying for this card:
Applicants must be 18 years of age or older
Applicants must have a valid Social Security number
Applicants must have a valid US address
How to Apply
Step 1 – To begin, navigate to the Arbor Day Foundation section of the Commerce Bank website. Locate the Apply Now button on the right side of the page and click on it to continue.

Step 2 – To get to the application form, you need to read through the terms and conditions and click I Agree once you accept them.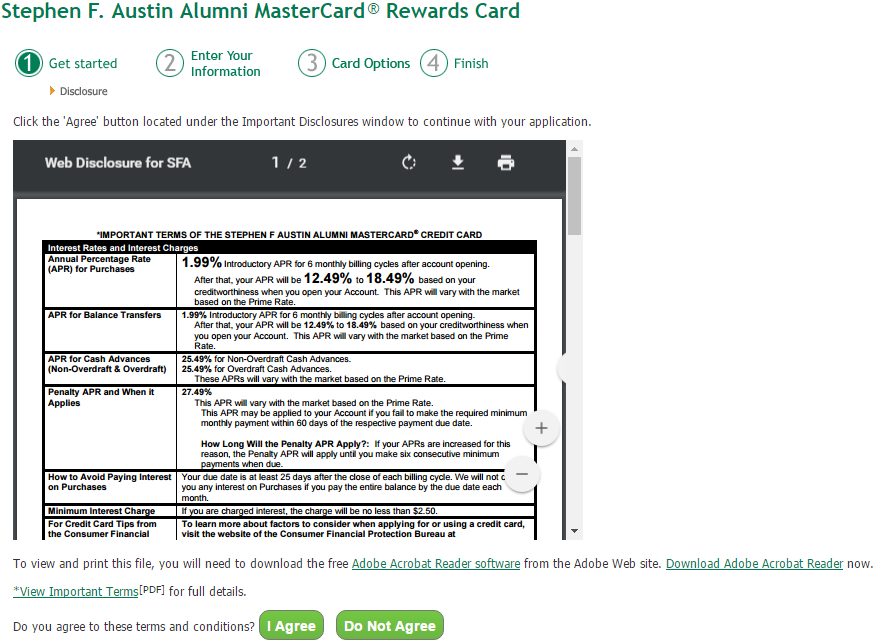 Step 3 – Now you may begin filling out the application form, starting with the following personal information:
Name
Full physical address
Phone number
Email address
Time at your current address
Date of birth
Social Security number
Mother's maiden name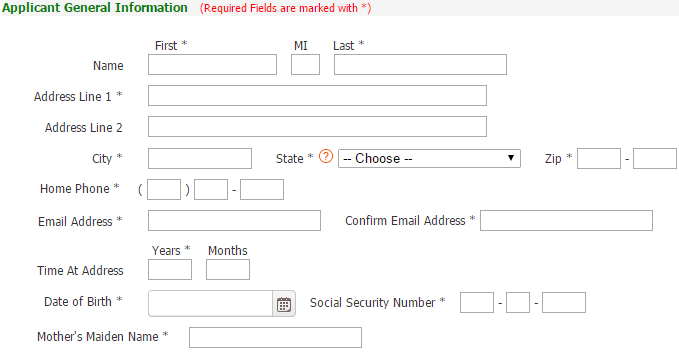 Step 4 – Next, you must provide your current Occupation/Position, Employer, Time With Employer, Work Phone and Total Annual Income.

Step 5 – Commerce Bank requires that you divulge some basic information on your current housing situation. Select Rent, Own or Other, and enter your Monthly Housing Payment.

Step 6 – To confirm your identity even further, you must provide the First, Middle and Last name of the nearest relative not living with you as well as Their relationship to you.

Step 7 – At this juncture, you must admit if you have declared bankruptcy in the past 10 years. You also need to declare if you are a U.S. resident or not. Click Next once you have completed the application form.

The next steps will offer options to personalize your credit card and will have you reviewing all the information you've just provided. Once you've submitted your application, it will be sent to Commerce Bank for review. We wish you the best of luck in your approval!