If you're a Florida-based nurse, you can help support the Florida Nurses Association (FNA) by acquiring the FNA Visa Rewards Card. When spending money with this card, a portion of each purchase goes towards supporting the FNA, including a $35 donation made to the FNA after your first purchase. In addition to this feature, this credit card also has a reasonable APR, no annual fee and a cash back rewards program which allows you to redeem a portion of your purchases as a statement credit or deposit. The rewards program is as follows: you earn 1% cash back for every dollar you spend you and 2% and 3% cash back in select categories (for up to 2,500 points every quarter). You can also take advantage of the introductory 1.99% APR on purchases and balance transfers for 6 the first monthly billing cycles following your account opening date. If you would like to apply for the FNA Visa Rewards Card, you can do so by following our step-by-step guide below.
Before submitting your application, we recommend that you look at the card-issuer, Commerce Bank's privacy policy.
Requirements
To be eligible for this credit card applicants must meet the following requirements:
Be at least 18 years of age
Have a valid SSN
Have a valid US mailing address
How to Apply
Step 1 – To access the online application for this credit card, navigate to the FNA Visa Rewards Card credit card webpage and click the Apply Now link.

Step 2 – You are now given the opportunity to review the terms and conditions for this credit card. If you agree to the terms, click I Agree to proceed.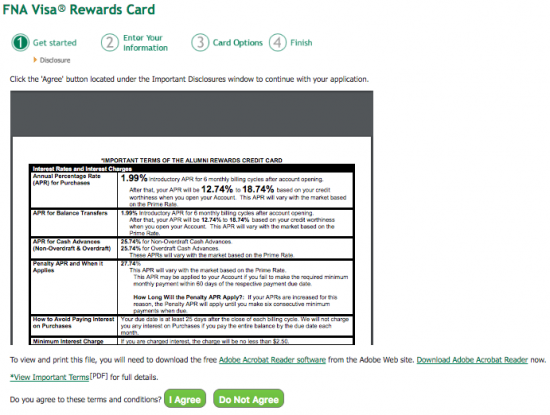 Step 3 – Now you can begin filling out your application by supplying the information listed below into the indicated fields.
Complete name
Complete address
Home phone number
Email address
Length of time at current address
Date of birth
SSN
Mother's maiden name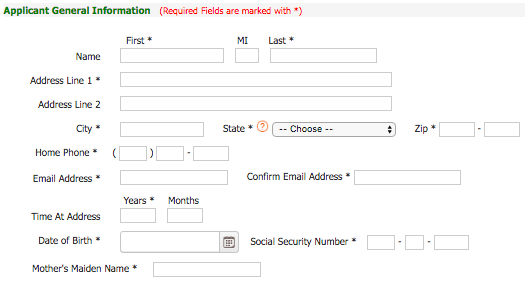 Step 4 – After completing the above section, provide the following information into the next two sections:
Occupation/position
Employer
Time with current employer
Work phone number
Total annual income
Other income (if applicable)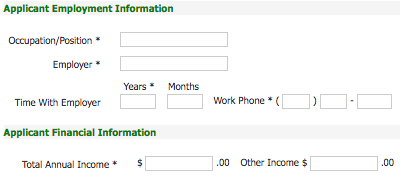 Step 5 – In this step, you must first select your housing status (if you select other enter the proper designation into the indicated field). Then, type your Monthly Housing Payment into the appropriate space before continuing.

Step 6 – Enter the full name of the nearest relative not living with you and their relationship to you into the indicated spaces. Next, answer Yes or No to the questions of whether you have declared bankruptcy in the last 10 years and whether you are a permanent US resident.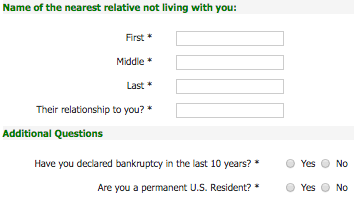 Step 7 – At this juncture, if you are adding a co-applicant to your application, select Yes and provide the requisite information. If not, select No. When you are finished, click Next to continue.

Step 8 – In this final step, select Yes or No to each of the following options:
Transfer an existing non-Commerce Bank balance to this card
Access your Commerce Bank account with this card
Add overdraft protection to your account
When you have finished filling out this page, click Submit to complete the application process.


That's all there is to it! Your application is now submitted for review by Commerce Bank. We hope that you have found our guide to be both helpful and straightforward, and we thank you very much for visiting Card Reviews.