The Stephen F. Austin Alumni Association is a non-profit organization aimed at creating an attitude of continued loyalty and support for the school's students and alumni. If you're proud of your alma mater, why not show it by applying for the Stephen F. Austin Alumni MasterCard? With help from Commerce Bank, the Stephen F. Austin Alumni Association offers a credit card that earns the cardholder rewards with every purchase. Users will enjoy unlimited 1% cash back on every $1 spent, with special opportunities to earn 2% and 3% cash back for purchases in select categories. Cash back can be redeemed for airline tickets, gift cards, merchandise or as a statement credit. Cardholders are presented with an introductory APR (for purchases and balance transfers) of 1.99%, which is offered for the first 6 billing cycles. Once this introductory period expires, the APR will be anywhere from 12.49% to 18.49% (APR is subject to change). This is quite a competitive interest rate, especially considering there is no annual fee attached to this card. If you're a Stephen F. Austin alumni, and think this card could be beneficial to you, we can help you apply. Follow our step-by-step instructions below to apply for your Stephen F. Austin Alumni MasterCard today.
Before applying, read through Commerce Bank's privacy policy to learn how your information might be used in the future.
Requirements
Make sure you fit into the following categories before applying for this card:
Applicants must be 18 years of age or older
Applicants must have a valid Social Security number
Applicants must have a valid US address
How to Apply
Step 1 – Navigate to the Stephen F. Austin Alumni MasterCard webpage, locate the Apply Now button near the top of the page and click on it to commence the application process.

Step 2 – The first part of the application form asks that you read the terms and conditions. Once the document has been read, and if you agree to the terms stated within, click ​I Agree to get to the application form on the following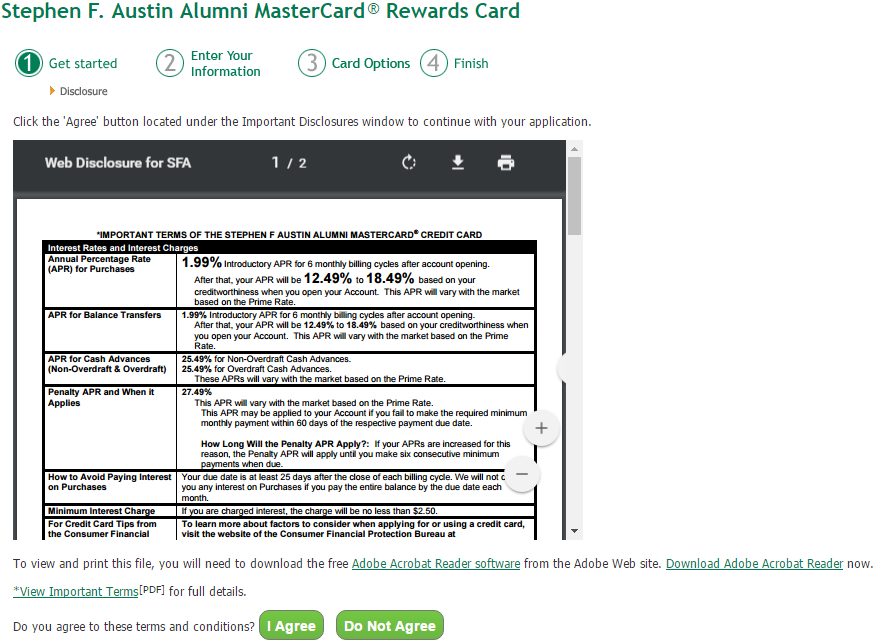 Step 3 – The first section of the application form asks for the following personal information:
Name
Full physical address
Phone number
Email address
Time at your current address
Date of birth
Social Security number
Mother's maiden name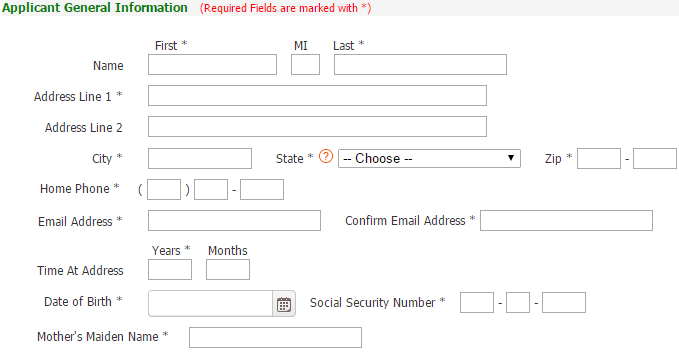 Step 4 – Next, you must provide your current Occupation/Position, Employer, Time With Employer, Work Phone and Total Annual Income.

Step 5 – To find out more about your housing situation, Commerce Bank asks if you rent or own your current home and how much you pay per month.

Step 6 – At this juncture, you are to provide the Name of the nearest relative not living with you and their relationship to you.

Step 7 – The final step requires that you answer if you've declared bankruptcy in the last 10 years and if you are a permanent U.S. resident. Select your answers, then click Next if you are satisfied with all the information you entered.

With all the steps completed, your application will have been submitted to be reviewed by Commerce Bank. We sincerely hope the help we have offered has guided you through this application process with ease. Good luck in the approval of your submission!