The Association of Former Students exists to strengthen the network of Texas A&M students, or Aggie's, past and present. One way you can display your support of your alma mater is by carrying a Texas A&M University Cash Rewards Credit Card in your wallet. With this rewards credit card, users can earn cash back wherever they go. 1% cash back is awarded with every $1 spent on everyday purchases, 2% cash back will be received when shopping at grocery stores and wholesale clubs, and 3% cash back can be earned when purchasing fuel. However, the 2% and 3% cash back opportunities only apply for the first $2,500 each quarter, after which users earn the regular 1% cash back rate. As an added bonus, new members receive $100 cash back after they make $500 in purchases (as long as it's within 90 days of opening the account). The Texas A&M University Cash Rewards Credit Card offers an APR as low as 13.24% for those with an excellent credit score and as high as 23.24% for those with bad credit (APR is subject to change). Users will also enjoy a 0% introductory APR for the first 12 billing cycles on purchases and balance transfers. If this card seems like a good fit for you, and supporting your university is important to you, why not apply for the Texas A&M University Cash Rewards Credit Card today?
Before filling out the application form, take a look at Bank of America's privacy policy to familiarize yourself with their terms of information sharing.
Requirements
To be eligible for this credit card, applicants must meet the following requirements:
Must be 18 years of age or older
Must have a valid Social Security number
Must have a valid US address
How to Apply
Step 1 – To begin the application process, click this link to get to the Texas A&M University Cash Rewards Credit Card Bank of America page. Click on the Get Started button beside the image of the card and proceed to the next step.

Step 2 – The first section of the application form asks for the following personal information:
Full legal name
Phone number
Email address
Physical address
Country of permanent residence
Alternate address for statements (if applicable)
Housing status
Monthly housing payment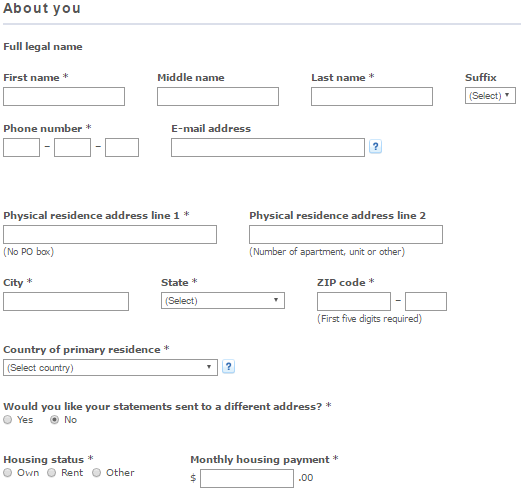 Step 3 – To verify your identity, enter your Social security number, Date of birth, Mother's maiden name, Country of citizenship and Citizenship status.

Step 4 – At this juncture, you are required to provide your Employment Status. Select your current status from the drop down menu and, if necessary, enter any information they ask for. For example, if you selected Employed, enter the Company name, Years in occupation, Occupation and Work phone number.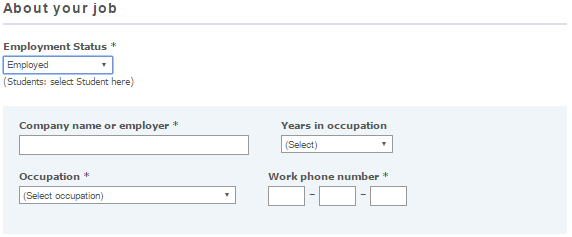 Step 5 – This sections asks that you disclose your Total annual income and Source of income, so Bank of America can better assess your financial situation.

Step 6 – Under the section labelled Your card features, you can choose to make a balance transfer from an existing credit card account to your new Texas A&M University Cash Rewards Credit Card. If you'd like to make a balance transfer now, select the box next to Balance Transfer, pick the number of transfers you'd like to make and enter the appropriate information. Skip this step if it does not pertain to you.

Step 7 – Finally, read through the terms and conditions and, if you agree to them, proceed by clicking Continue.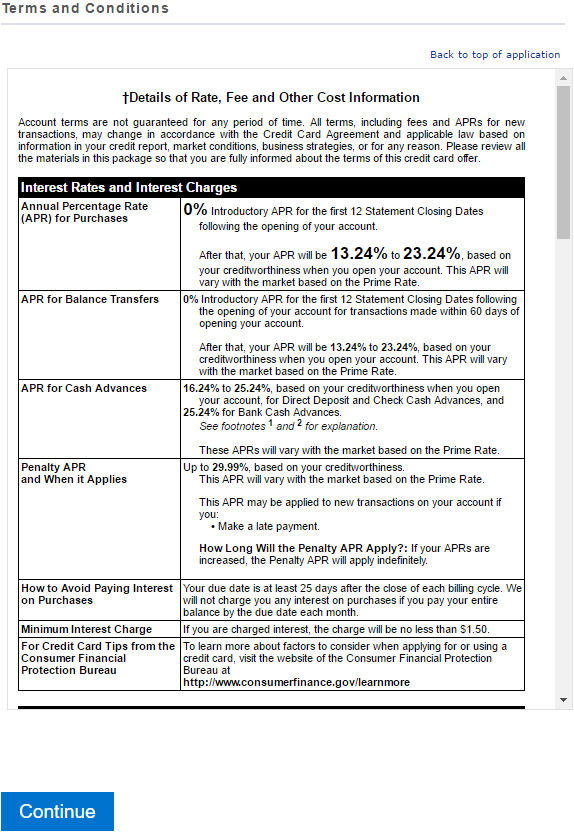 The application process is now complete. Just sit back and wait to see if you're approved. We hope this tutorial has helped you achieve your goal successfully. Best of luck!