If you've recently acquired The Clean Water Card, you will be happy to know that you can manage your finances through mycardstatement.com. This website has been designed to make it easier for you to keep track of your spending habits by allowing you to review your bank statements from any computer or mobile device. You will also be able to quickly pay your bills, transfer funds, or otherwise perform any transaction electronically, avoiding the need to bank in person at your nearest branch or over the phone. If you are unfamiliar with online banking, review our tutorial below as we have provided instructions on the card activation, online registration, and login procedures. With these three processes complete, you will be able to start using mycardstatement.com to manage your newly acquired Clean Water Card today
Before proceeding, take a moment to review TCM Bank's online privacy policy to see how your personal information will be used.
How to Login
Here we will go over the steps involved in accessing your online account. Begin by navigating to Mycardstatement.com. In the login menu, supply your Username and click Log In.

Next, you will need to supply the answer to your security question. Enter-in the answer and select Yes or No to indicate whether or not your operating device is private. Click Continue to gain access to your personalized account.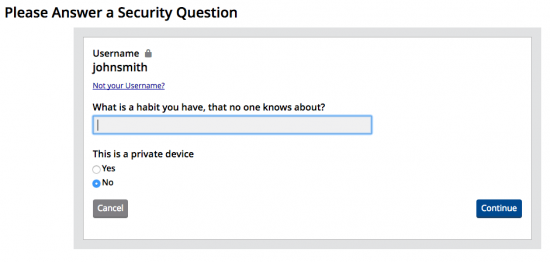 If you'd like to recover a forgotten username, click on the Forgot your username? link located below the main login field. Provide your Credit Card Number on the following page and click Begin Forgot Username to proceed. Complete the instructions provided on the subsequent page to recover your forgotten username.

Activation/Registration
Your card will need to be activated before it can be used to bank online or make purchases. Card activation can be accomplished by calling the number located above this paragraph and speaking to a customer service representative who will assist you through this process. With your card activated, click on the Secure registration link located above the activation number to begin the enrollment process for an online banking account. On the enrolment webpage, supply your Credit Card Number and click Begin Enrollment. The next several pages will require you to supply some additional pieces of information as well as set up your security and login credentials before finalizing your registration.

Your account should now be set up and ready to be used at your own convenience. Than you for choosing Card Reviews and best of luck with your new personalized banking account!