The USAA Cash Rewards American Express Credit Card provides cardholders with the means to manage their credit in its entirety from the comfort of their own homes. By creating an online account and accessing it, cardholders can make immediate payments on outstanding balances and review their monthly statement history. Scroll down this page and you will find a helpful guide we have created that will explain everything you need to know about creating an online account and accessing it.
Before you continue we feel it is important that you take a moment to review the online privacy policy. Doing so will inform you of how your personal information is going to be used and protected while you login to your online account.
How to Login
Step 1: You will first need to head over to the login homepage, pictured below.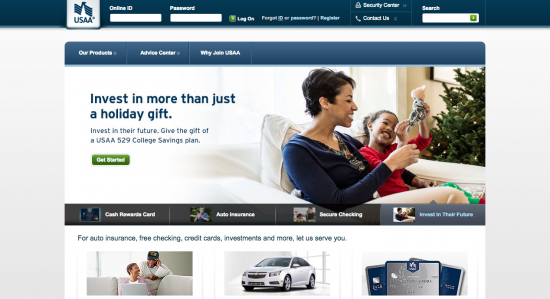 Step 2: Enter your Online ID and Password in the blank spaces provided and click the Log On button to gain access to your online account. If you have forgotten your login information you can retrieve it by clicking the Forgot ID or Password? link and continuing on to Step 3.

Step 3: You must then designate if you have a USAA Number and verify your membership by either providing your USAA Number, your Social Security Number, or your Tax ID Number. Click Next once you have entered the necessary information.

Step 4: Once verified you will be able to create a new Online ID or Password depending on which you are attempting to retrieve, by entering either your Online ID or Password and clicking the Next button.

Activate/Enroll
If you have yet to register for an online account you can do so by either calling the activation number provided above or by enrolling online. To enroll online, click the Secure activation link provided above and on the following page click the Register link.

You must then verify your identity by designating whether your have a USAA membership or not and clicking the Continue button.

On the following page, you must enter either your USAA Number or your Social Security Number and clicking the Next button. Before your online account can be fully activated you will need to setup an Online ID and Password as well as create a few security questions. Once completed you will be able to use your online account as you wish.