Although the Nationals are not one of the oldest teams in the league, they are still supported by a true and loyal following. If you're a die-hard fan of the Washington Nationals, why not extend that pride to your wallet? The Washington Nationals Cash Rewards MasterCard is a card that boasts a good rewards program and a reasonably low interest rate. Their cash rewards program works as follows: every $1 spent on everyday purchases earns cardholders 1% cash back, grocery store purchases provide 2% cash back and fuel purchases supply 3% cash back. The combined grocery and fuel purchases have a cap of $2,500 quarterly. After that cap is reached, users earn the regular 1% cash back rate. You can redeem these rewards anytime you want for a statement credit, in the form of a check, or even as a direct deposit to a Bank of America checking or savings account. Not only are you supporting the team you love, you're saving money while doing it! This card also comes with no annual fee and a low introductory rate of 0% for the first 12 billing cycles. It would be wise to check your credit score because, after the introductory period, you could see a rate as high as 23.24% (APR is subject to change). But if you're someone with excellent credit score, you'll have nothing to worry about, as the APR can be as low as 13.24%. If you think the Washington Nationals Cash Rewards MasterCard is the right fit for you, we'll show you how to apply for it. All you need to do is follow our step by step guide posted below.
Before entering any personal or financial information, you'd be smart to take a look at the privacy policy implemented by Bank of America.
Requirements
Before going through the application process, make sure you meet the following requirements:
Applicants must be at least 18 years of age
Applicants must have a valid Social Security number
Applicants must have a valid U.S. address
How to Apply
Step 1 – To begin, find your way to the Bank of America MLB homepage (we have provided a link here for your convenience). This page has more details on the Washington Nationals Cash Rewards MasterCard should you wish to read more on it. When you're ready to apply, click the Apply Now button near the top of the page.

Step 2 – The first step of the application process is to select the design of your card. There is a drop down menu where you can select the Washington Nationals from the list of MLB teams.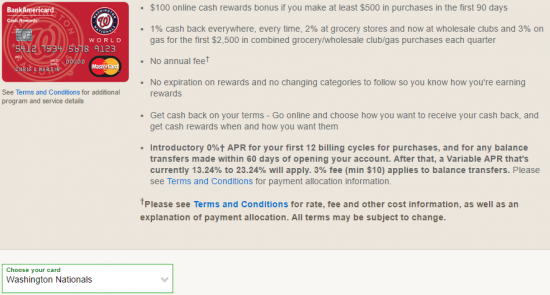 Step 3 – You need to provide the following information in the Personal section of the application form:
Full name
Physical address
Primary phone number
Email address
Country of citizenship
Country of residence
Date of birth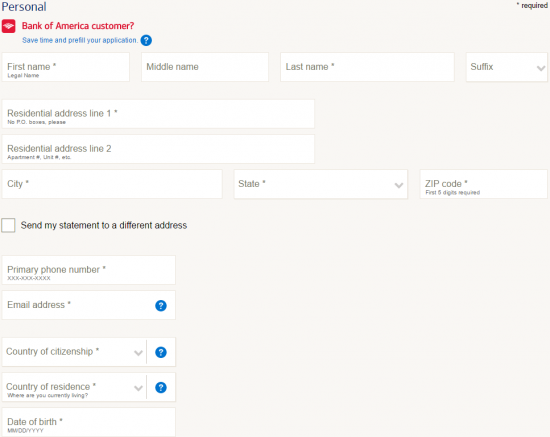 Step 4 – At this juncture, you are asked to provide your Employment status, Total annual income, Source of income and Monthly housing payments.

Step 5 – Like most credit card applications, you are given the option on the form to make a balance transfer from one of your current credit cards to your new Washington Nationals Cash Rewards MasterCard. If you'd like to make a balance transfer, tick the box and enter the appropriate information.

Step 6 – The last step involves reading and accepting the terms and conditions, before clicking Review your information. You will be prompted to check that all the information you entered is accurate before submitting your application for approval. Now all you have to do is wait and see if you're approved. We wish you the best of luck!