If you're not accustomed to doing your banking online, now would be a great time to start. Cardholders of the Washington Nationals Cash Rewards MasterCard are permitted to use Bank of America's secure online banking portal. Through this portal, users can access their credit card account anytime, from any computer or mobile device. Imagine, you may never need to step foot in a bank again! You can pay your bills, monitor your spending, download statements and try out of some of the financial tools made available by Bank of America. This may seem a bit overwhelming for those of you who aren't exactly tech-savvy. Have no fear, that's what we're here for. We have written out instructions on how to enroll for, and log into, an online banking account. We also go through the essential activation process of your new Washington Nationals Cash Rewards MasterCard.
Before continuing, take a look at Bank of America's privacy policy to familiarize yourself with their terms of information sharing.
How to Login
The login process begins at the Bank of America homepage. Once the website has loaded, you'll find a red login box on the left hand side of the page, as shown below. Enter your Online ID and Passcode, then click Sign In to gain access to your online banking account.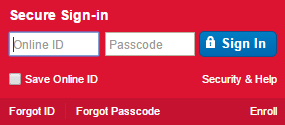 In the event that you can't remember your login information, click the Forgot ID or Forgot Passcode link (depending on which one you have forgotten). It's essentially the same process for both situations. You are asked to present a couple pieces of information; your card number or account number, and your social security number or tax ID number. If you forgot your ID, you are asked to enter your Passcode. If you can't remember your passcode, you will be prompted to enter your Online ID. Click Continue, then complete the recovery process to regain access to your online banking account.
Activation/Registration
To get your card up and running, call the activation number above and you will be walked through the application process by a Bank of America customer service representative. Once you've been assured that your card is ready to use, you may want to consider registering for a Bank of America. To register for an account, click the Secure Registration link we have provided above and you will be directed to a page similar to the window shown below. You need your card number or account number handy, as well as your Social Security number (or Tax ID number if you prefer). Enter those numbers in the fields provided and click Continue. To complete the enrollment process, you will be asked to create an ID and passcode and set up some security questions. Once you have verified that all your information is correct, you can start taking advantage of all the services Bank of America's online banking has to offer.