Frequent shoppers at American Signature Furniture will be interested, initially, to find that ASF has teamed up with Synchrony bank to offer a brand credit card; the American Signature Furniture Credit Card. The card's savings are minuscule at best, being comprised solely of interest-free billing cycles on very select, very expensive (over $999 in one case, only new mattresses in another) purchases. In addition to this lack of rewards compensation, the card has the highest APR rate I've personally ever seen at 29.99%! I can't conceive of why someone would ever apply for this card, but in case you know something I don't and would like to proceed with an application, please read on to find our official application guide.
Before applying, please review the Synchrony online privacy policy.
Requirements
All applicants must:
Be at least 18 years of age
Have a valid US street address
Have a valid SSN
How to Apply
The application, available here, is comprised of 4 basic steps. The first being:
Step 1- Personal Information
Enter the following personal information into the provided fields in order to complete this section:
Full name
Address
Email address
Phone number
Date of birth
Cell number
Business number
SSN
Driver's License number / state / expiry
Total monthly income
Housing status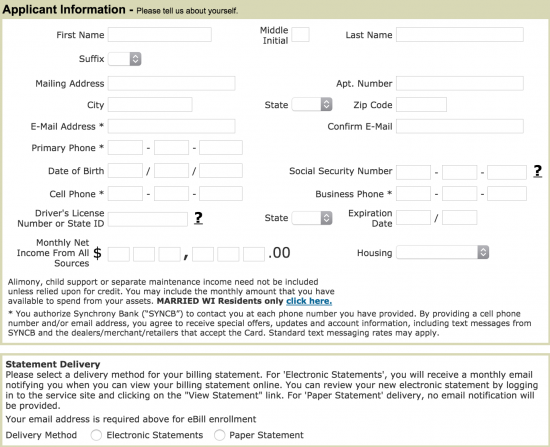 You must also consent to electronic or paper statement delivery at this juncture.
Step 2- Card Security (Optional)
Should you choose to enrol in the Synchrony-provided optional card security you may do so at this point.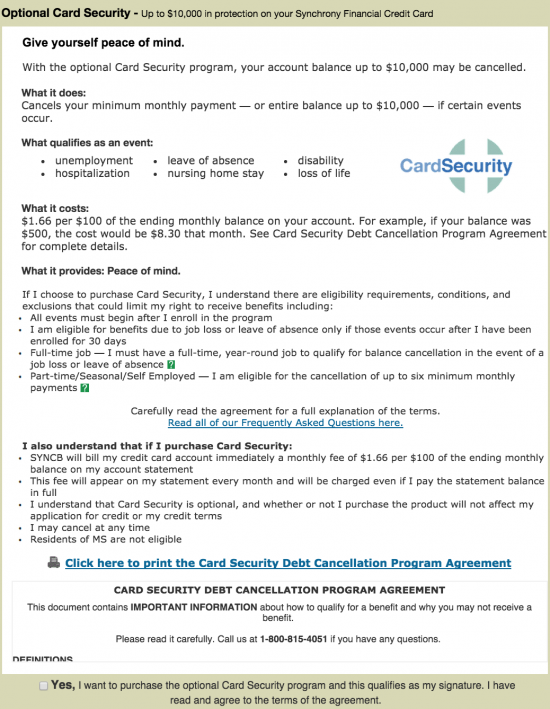 Step 3- Joint Applicant (Optional)
If you're applying jointly with another individual you must enter his/her information here.

Step 4- Disclosures
Read through the terms and conditions and, if you assent, select accept & submit to finalize your application.