American Express offers an alternative to the Everyday Credit Card with their Everyday Preferred Credit Card, a card that, despite the annual fee, offers greater earning potential than its non-preferred counterpart. The application process for this card is relatively simple, but just in case you are finding some difficulty with it, please refer to our guide below which lays out the application in a step-by-step format for ease of use.
Applicants should be familiar with American Express's Online Privacy Policy for their own security. It is always advisable to learn about how your sensitive information will be handled once it has been submitted to a company via an online form.
How to Apply
The secure application is not directly linkable, however there is an easy to find link located on the card summary page (shown below). This page displays in detail the rewards structure of the card. To access the secure form simply click the blue Apply Now link.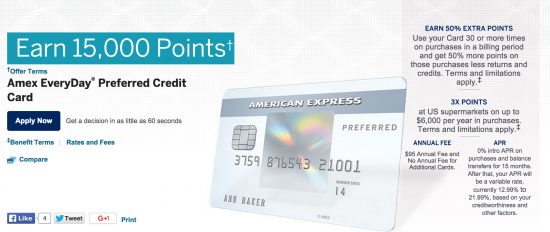 Step 1- Personal Information
The form will require you to submit some basic personal and financial information. The financial information will aid American Express in evaluating your creditworthiness and ultimately will determine which APR you will be awarded. The information you will be asked to submit is as follows:
Full name
Name on card
Email address
SSN
Date of birth
Phone number
Home address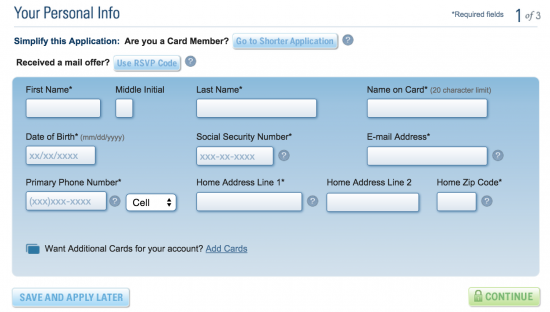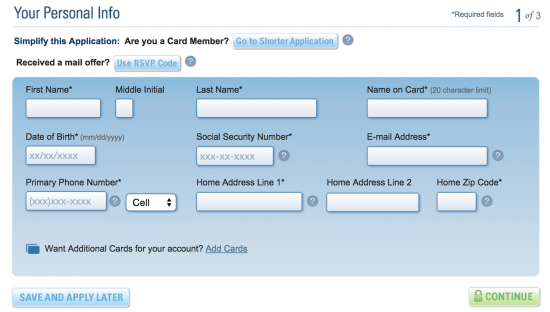 You may also add additional cardholders to your account at this juncture. Should you do so, be aware you, as the primary account holder, will be ultimately responsible for all associated bills and fees.
Step 2- Financial Information 
Enter the following into the provided fields relating to your financial circumstances:
Employer name
Employer city/state
Employer phone number
Income source
Total annual income
Bank accounts held
Housing status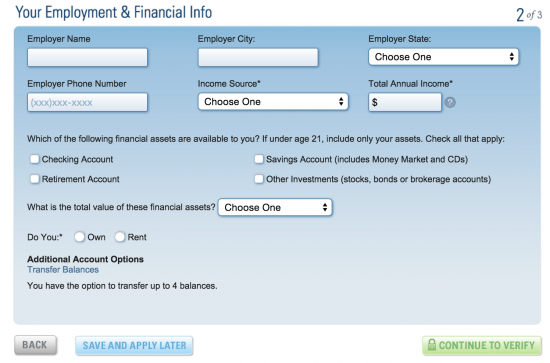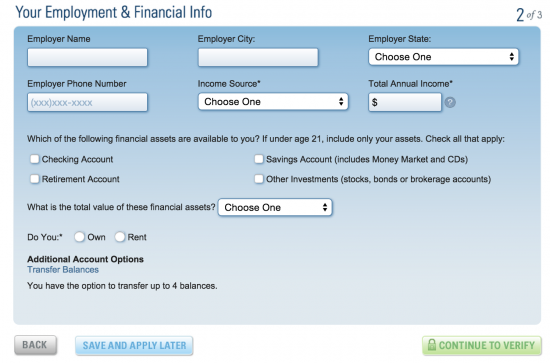 If you would like you can perform up to 4 balance transfers from major cards onto this new card to consolidate your debt. Only do so if you have read through the fees and APRs associated with this maneuver.
Step 3- Terms and Conditions
The terms and conditions for this card are not expressly available at the conclusion of the application as they ought to be, however we have hosted them here for your convenience.  If you approve of them then review the information you have entered and submit!