The Amex Green Credit Card, primarily a travel card, offers decent rewards (1 point per dollar on purchases, 2 points for travel purchases on the Amex travel site) but does come with a hefty $95 dollar fee. I'm no mathematician, but I would wager that the costs outweigh the potential benefits on this card unless you do a fair bit of traveling, and in that case there are innumerable cards that offer travel benefits superior to the Green card. Still, if you find yourself inclined for some reason to apply for this card we have gone through the painstaking effort of creating an official application guide, available just below.
Before jumping the gun to apply as if there are no cautionary measures to be taken, read over the Amex Online Privacy Policy to make sure your sensitive private information isn't being profited upon or otherwise used in a way that runs counter to your convictions or moral code, or security fears.
Requirements
All Applicants must meet the following requirements before applying:
Be a US resident (have a valid US street address)
Have a valid US SSN
Be at least 18 years of age
How to Apply
Amex has tucked the secure application page within their card summary page (shown below) which they use to entice potential cardholders to apply by advertising the rewards specific to this card. In order to actually access the application you must follow the blue apply now link and wait to be redirected tot he form.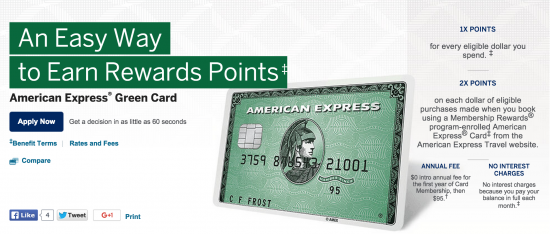 Step 1- Personal Information
You will first be asked to submit some personal identification information, specifically the following:
Full name
Name on card
Email address
SSN
Date of birth
Phone number
Home address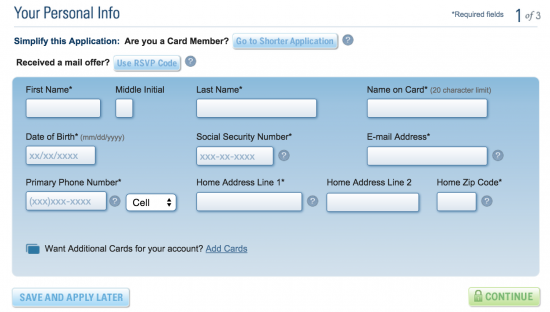 For those applicants with dependents, spouses, employees or the like who may benefit from a seat on the Green card bandwagon you are in luck! Amex is providing you, right at this step, with the opportunity to add additional cardholders with just one click and a few personal details. Should you choose to go with this option, please keep in mind that as the primary cardholder you will be ultimately responsible for all bills and fees associated with the account.
Step 2- Financial Information 
For this section of the application you will have to enter the following financial data:
Employer name
Employer city/state
Employer phone number
Income source
Total annual income
Bank accounts held
Housing status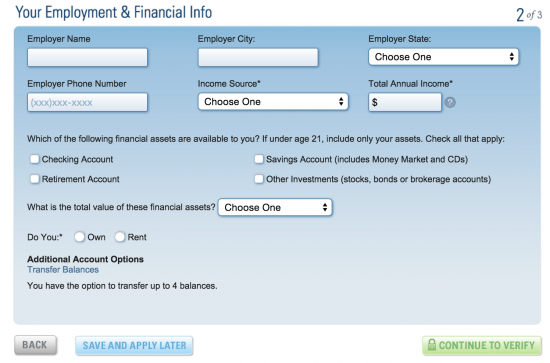 You may also perform up to 4 balance transfers at this point, should you be looking to consolidate debt (hint: getting another credit card is probably not the best option for debt reduction).
Step 3- Terms and Conditions
Amex has the terms and conditions available from their summary page, but not within the application. For those who wish to review these disclosures before submitting we have hosted them here for your convenience.  Should you approve, submit the application and await your judgement from Amex. Good luck!