Do you own the Affinity Credit Union Low Fee Gold MasterCard? If the answer is yes, congratulations! Looking to register for online banking, to activate your card, or log into your account? Look no further! We have created official guides for each of these processes, available within the tutorials below. Your online banking experience will take place on the CUETS web portal as they are the financial institution which has partnered with Affinity to offer this credit card. After logging into your CUETS account, you will find a world at your fingertips. You will be able to pay bills, update personal information, perform transfers, and virtually fully manage your credit card from any computer, tablet, or mobile device.
While we have your attention, please review the CUETS online privacy policy before surrendering any information on one of their web forms.
How to Login
This website contains the login menu through which you can access your account. Under the Sign In heading, supply your Username and click Sign In.

Next, type in your Password and click Submit. If your login credentials were supplied correctly, access to your online account should be granted.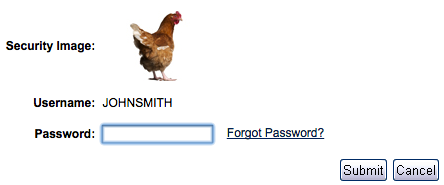 If you've forgotten your password, you can retrieve it through the Forgot Password? link found beside the password login field. On the next page, supply your Mother's Maiden Name and your Date of Birth before clicking Submit. If this step was completed correctly, you will be able to retrieve your password by following the prompts found on the subsequent page.

Activation/Registration
If you have yet to activate your credit card, call 1 (800) 561-7849 and get ahold of a customer service agent who can assist you through this process. Following activation, click on the Secure registration link (posted above) to begin the enrollment process for your online banking account. This link will take you to the CUETS web portal where you should see the Sign In menu. Click the New User/Enrol Now link to proceed.

Some basic information is asked of you on this page. Start by providing your Card Number and click Submit. CUETS will then ask you to supply some basic personal information as well as set up your security and login credentials. Once you've completed the registration process, your online account will be fully functional and ready for action! We hope you found this guide informative and we wish you all the best.