New American Express cardholders looking to maintain their credit card account activity need only follow the few simple steps that are listed below. Much like applying for an American Express card, managing your account online is straightforward and quick. The steps needed to be taken in order to request new cards, review past statements, and pay bills, are as simple as can be. Follow the guide, available below, in order to learn how to register for online banking, how to log into your online account and how to activate your new American Express Blue Card.
We recommend that all new users review the American Express privacy policy to understand how their personal information is going to be handled.
How to Login
In order to log into your American Express online account, navigate to the American Express homepage and supply your User ID and Password in the empty spaces. You can save your login credentials for future logins by clicking the box next to Remember Me. Lastly, click Log In to gain entry to your online account.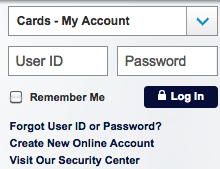 Click the Forgot User ID or Password? link located below the login fields if you are experiencing difficulty remembering your login credentials. On the following page, enter your 15-digit number on the front of your card as well as your 4-digit card ID. Click Continue to move onto the next set of steps which enable you to retrieve your user ID or update a forgotten password.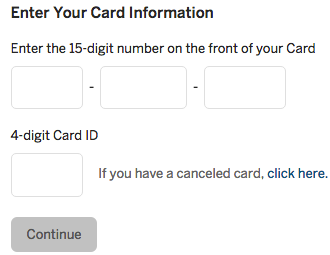 Activation/Registration
If you've recently received your American Express Blue Card in the mail, you're going to want to get it activated so that it can be used to make purchases or so that it can be registered for online banking. Call 1 (800) 528-4800 to begin the activation process. Once you've gotten ahold of a customer service representative, follow their instructions to activate your credit card. You may also activate your card online by navigating to this webpage and by suppling your 4-digit Security Code and Card Account Number in the empty fields. Click Continue after you card information has been provided and you will be taken to the next step in the process. Follow the remaining instructions and your card should be activated in no time.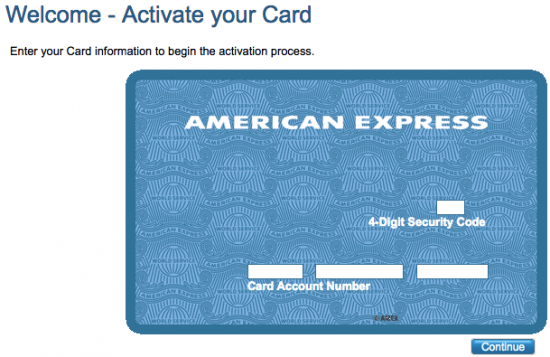 With your card activated, you are now able to register for online banking. Begin the registration process by clicking the Secure registration link located at the beginning of this segment. Supply your 15-Digit Card Number and 4-Digit Card ID in the empty spaces found on the registration webpage. With your card information supplied, click Continue to proceed to the next step. The subsequent pages will have you providing some basic personal data before setting up your login credentials to finalize the registration process.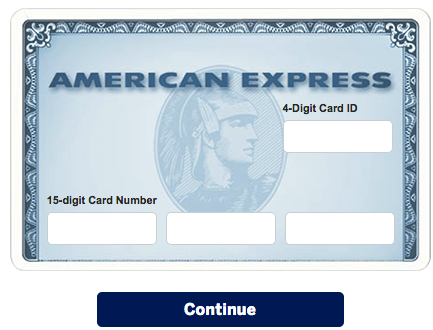 With the above steps completed, your online account with American Express should be active and you can begin banking online from your home computer, tablet or mobile device.