Ann Taylor customers will love the convenience of paying for their purchases with an Ann Taylor Credit Card. The card is issued by Comenity Bank and offers substantial perks for frequent shoppers, including 15% off of all purchases made on the first Tuesday of every month, and a rewards program that provides users with savings on Ann Taylor products. The rewards program works similarly to other cards of this nature as cardholders will receive points based on how much they spend. For the Ann Taylor Credit Card, 5 points will be given per $1 spent on eligible purchases and, when enough points have been earned, you will be able to redeem them for gift cards that can be used directly at Ann Taylor stores or at their affiliated departments. Interest rates for the card are fairly high however and we would recommend this card to only the most dedicated Ann Taylor shoppers. If you happen to fit into that category, head down to our tutorial below for a detailed look at the application process.
Before applying, we recommend reviewing Comenity Bank's privacy policy to ensure that you're comfortable with the way they plan on handling your personal information.
Requirements
To receive an Ann Taylor Credit Card, you must:
Reside in the USA
Be at least 18 years of age
Have a valid mailing address
Have a valid photo ID
Have a valid SSN
How to Apply
Step 1- Start by navigating to the online application form. You will be presented with a summary of the features that this credit card has to offer. Just below that, you should see a series of empty fields that must be filled in with your personal information. Start by providing your First Name, Last Name, Date of Birth, and Social Security Number.

Step 2- Continue by supplying your House Number, Street Name, City, State, and Zip.

Step 3- The last of the information required of you is your Home Phone number, Work Phone number, and you may optionally provide your Email address.

Step 4- The terms and conditions window found at the bottom of the page contains all the pricing information concerning this credit card. Take a moment to review this document to ensure that you agree with the terms. If you do indeed agree, check the small box found just above Submit to provide consent. Now that all of the required information has been provided, click Submit to have your application sent in to Comenity Bank for review, thus completing the application process.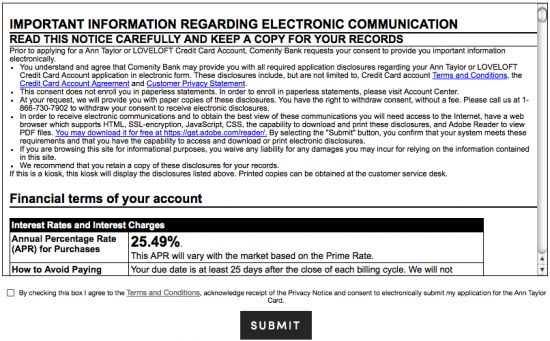 We're glad you made it all the way through the application in one piece! Hopefully you didn't find it too stressful or overwhelming. We would like to thank you for supporting Card Reviews and we wish you the best of luck with your new credit card.