Cardholders of the Ann Taylor Credit Card can manage their finances with ease using Comenity Bank's online portal. If you have yet to register for an account with Comenity Bank, we have provided a tutorial below which will walk you through the process. Once your account has been set up, you'll be able to manage your card at a time that best fits your busy schedule. Logging into the online portal will allow you to pay your bills, transfer funds, update contact information, and request additional cards. Scroll down to find out more about how you can get started banking online and, if you've yet to activate your card, you will find information on that process below as well.
Be sure to review Comenity Bank's privacy policy to ensure that you're comfortable with the way they plan on handling your personal information.
How to Login
Begin by navigating to this webpage where you should see the login menu on the left of your screen. In the empty spaces, enter your User Name and Password. Click Sign In and you will be granted entry to your online account. If you've misplaced your login information, click Forgot your user name or password? and scroll down to the paragraph just below for further instruction.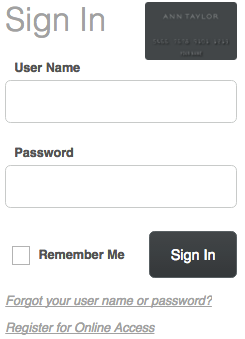 You must first identity yourself before you can recover your forgotten login credentials. To accomplish this, enter your Credit Card Account Number or User Name, Zip Code/Postal Code, Identification Type, and the Last 4 Numbers of (your identification type). Click Find My Account to continue to the subsequent page where instructions will be given to you which must be completed before your login credentials can be recovered.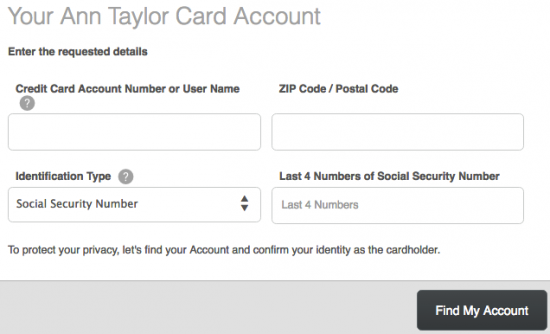 Activation/Registration
If you've just received your Ann Taylor Credit Card in the mail and you'd like to have it activated, you will need to phone customer service using the number provided above. Follow the instructions given by a customer service representative and your credit card will be activated in no time. After activating your card, you may begin the online account registration process by selecting the Secure Registration link posted just above the number used to activate your card. The link will take you to the enrollment page where you must supply your Credit Card Account Number, Zip Code/Postal Code, Identification Type, and the Last 4 Numbers of (your identification type). Click Find My Account after providing your card information.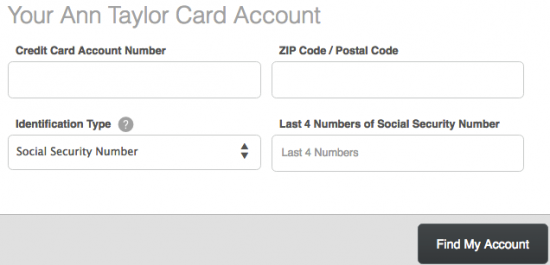 Next, you can set up your account by creating your login credentials. In the blank fields, enter your preferred User Name, Password (enter twice to confirm), Email Address, and Mobile Phone Number. Click Create Account after the requisite info has been given.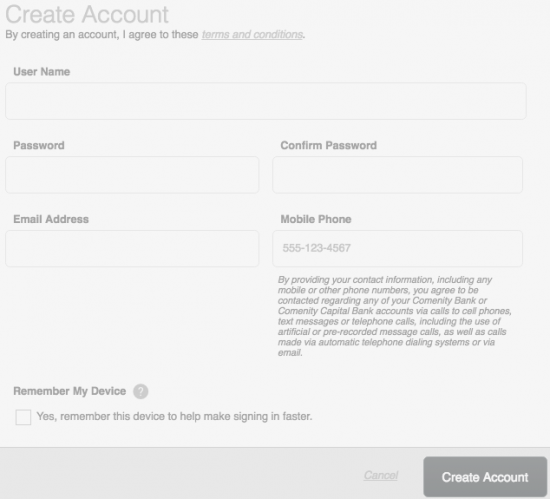 Select either Enroll In Paperless or No, Thanks to indicate the way in which you'd like to receive your monthly bank statements.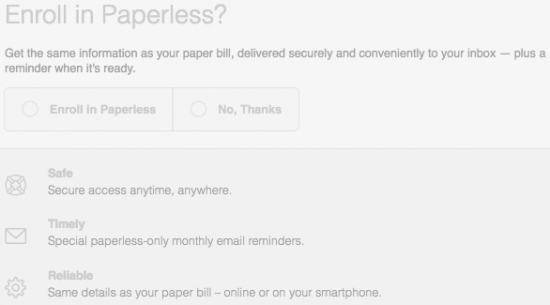 The Digital Card service offered by Comenity Bank allows you to pay for your purchases using your cellular device. Select either Activate My Card or No, Thanks to indicate whether or not you'd like to use this service. When you're ready to proceed, click Continue. Navigate through the remaining set of instructions to successfully register for online banking.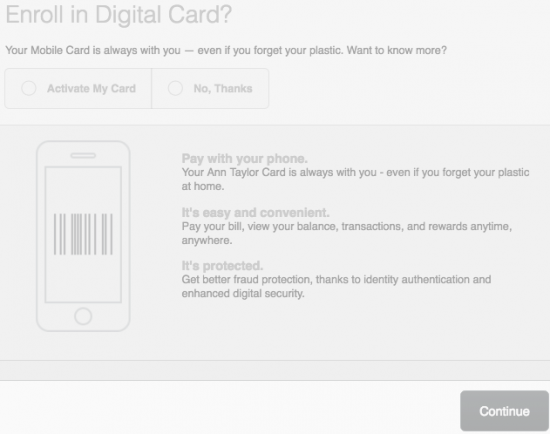 Your account should now be set up and ready to go! We hope that you found our tutorials helpful and we want to thank you for choosing us as your credit card specialist.