So you're interested in the Arvest Classic MasterCard Credit Card. Well you've come to the right place! This cardreviews.org official application guide will provide you with everything you need to know about successfully applying for the aforementioned card. If you're unaware of what this card has to offer, you might be interested to find out that it has an APR of 19.90% across-the-board, meaning that this rate applies to your purchases, balance transfers, and any cash advances (APR is subject to change). Some benefits to look forward to are the introductory financing rate of 4.9% (lasting for the first 6 months of card membership) and a rewards program that awards users with 1 point for every $1 spent. This card is fairly standard all around and neither shines with features nor falls short by demanding additional fees and posting extreme interest rates. If you'd like to apply for the Arvest Classic MasterCard Credit Card, read on to our application guide below.
All applicants are encouraged to familiarize themselves with the Arvest privacy policy before submitting any personal information into the application form.
Requirements
All applicants must meet the following requirements in order to be eligible to apply:
Be at least 18 years of age
Have a valid US SSN
Have a valid US street address
How to Apply
Step 1- To access the secure application, you must navigate to the Arvest card summary page which details the differences in financial structure between their card offerings. From there, select the Apply Now button found within the Classic Card window.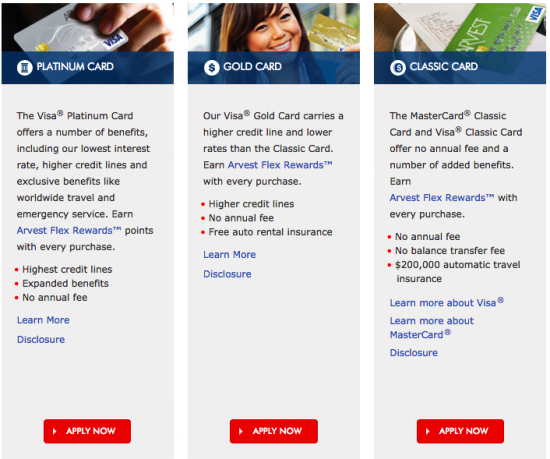 Step 2- Use the drop-down menus found here to specify whether you're applying for a Visa or a MasterCard, and to indicate which community is nearest to you. Click Continue after making your selections.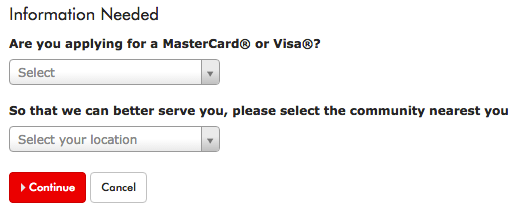 Step 3- This page is where your personal information is needed. In the empty spaces highlighted with an asterisk, the following details must be specified:
Full name
Name displayed on card
SSN
Date of birth
Security password
Primary phone number

Step 4- To continue with the submission of your personal information, please provide the following:
Street address
City
State
Zip code
Time at current residence
Housing situation
Driver's license or state issued ID number
Issuing state

Step 5- The last bit of information required concerns your employment and income details. In the appropriate spaces, provide the following information:
Current employer name
Time with employer (years/months)
Do you have a credit card relationship with Arvest? (y/n)
Monthly gross income
Source of income

Once all of your personal details have been provided, we recommend that you review the terms and conditions to get a full understanding of the pricing information related to this credit card. If you agree to the terms, click the Submit button to finalize your application and send in your card request to Arvest for review. Your part in this is now over and you can sit back and relax as you await confirmation from Arvest. That's all for now! Thanks for using our services today and best of luck with your new credit card.