The Arvest Classic Visa Credit Card is a well rounded card with no annual fee and some additional bonuses to help it stand out in the crowded field of 'basic' credit options. While some rudimentary credit cards provide no means of return on purchases, the Arvest Classic Visa Credit Card simply provides you with 1 reward point for every dollar that you spend. These points can help you save on your next flight, car rental, hotel stay, or they can even be redeemed for statement credit. The interest rate on your purchases will be set at 19.90%, which is slightly above average when compared to similar cards of this nature (APR is subject to change). It really comes down to what type of card you're looking for. If paying your bills on time isn't always possible, you might want to consider another card with lower interest rates. If, on the other hand, you feel like you could really take advantage of the rewards program that this card has to offer, the potential savings earned might outweigh the interest rate. Should you be interested in acquiring this card, you will find all information necessary to apply below.
We recommend reviewing the Arvest privacy policy before proceeding to make certain that you're aware of how your personal information is going to be handled.
Requirements
Each applicant must meet the following requirements before proceeding:
Be at least 18 years of age
Have a valid US SSN
Have a valid US street address
How to Apply
Step 1- Head over to the card summary page and click on the Apply Now link located within the Classic Card window.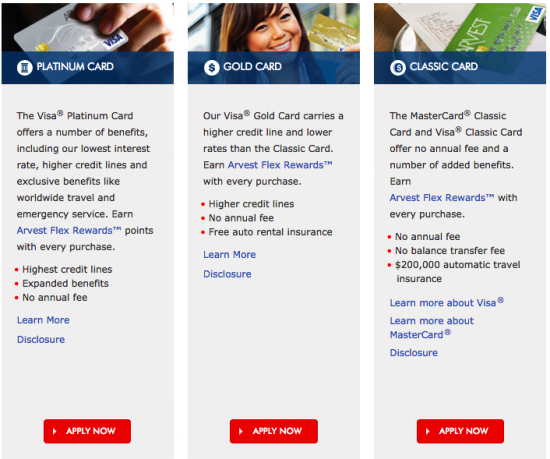 Step 2- Use the first drop-down menu to indicate which type of card you're applying for, be it a MasterCard or Visa. Next, use the second drop-down menu to specify your location and click Continue to proceed.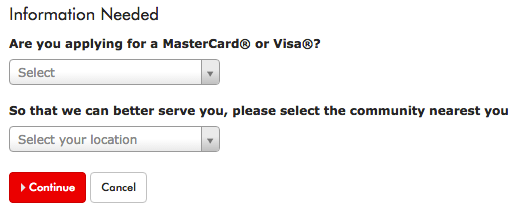 Step 3- Now that the online application has been accessed, you will be able to start providing Arvest with your personal details. Begin by entering the following information:
Full name
Name displayed on card
SSN
Date of birth
Security password
Primary phone number

Step 4- Continue the submission of your personal data by supplying the following:
Street address
City
State
Zip code
Time at current residence
Housing situation
Driver's license or state issued ID number
Issuing state

Step 5- Here is where your financial and employment details must be specified. The requisite information is as follows:
Current employer name
Time with employer (years/months)
Do you have a credit card relationship with Arvest? (y/n)
Monthly gross income
Source of income

The last thing to do before submitting your application is review the terms and conditions to ensure that you understand the rates, fees, and other pricing information concerning this credit card. When you've finished reading over the terms, click Submit and your application will be sent in to Arvest for an official review. That's all there is to it! Now that your application is complete, we would like to thank you for using our services today and would also like to welcome you back whenever credit card assistance is needed.