The Ballston Spa National Bank Credit Card, offered in partnership by Visa and TCM Bank, offers a points-based rewards system that is easy to take advantage in order to save money. According to the Ballston National Bank, you can use the card to access over 700,000 ATMs worldwide. Alongside the points rewards, one can also enjoy paying no annual fee.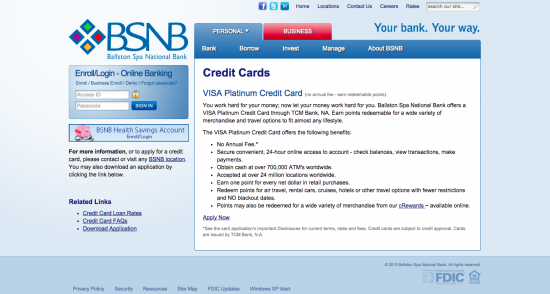 Make a Payment
If this is your first time trying to access your Ballston Spa National Bank Credit Card, don't fret…its easy to login and make payments. Simply access the main Ballston Spa National Bank page and enter the Access ID and Password you created during registration. If you haven't registered yet, skip to the next section below.
After clicking the blue "Sign In" button, you will be able to pay your bills, edit account information, and view your transaction history.
Activation
In case you need to activate and register your account in order to gain access to online account management, you have come to the right place for instructions.
First, click the link above that says "Secure Activation". Next, read and understand the Terms and Conditions of online usage.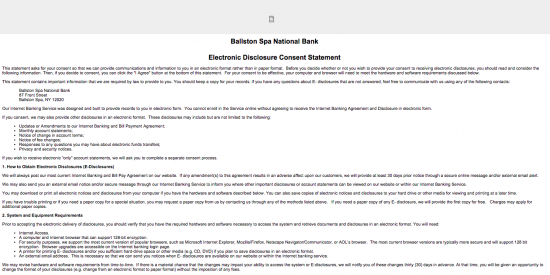 Scroll down after you have read all of the information. At the bottom of the page you can tick the box to indicate you have read everything. Now you may save the consent statement, print it, or click "I Agree" and continue registering your card.


Next, you must fill out a short form. Required information includes your:
Social security number
Account number
Birth date
Email address
You must also decide on an Access ID and a passcode. Note the yellow box that explains the passcode and access ID parameters.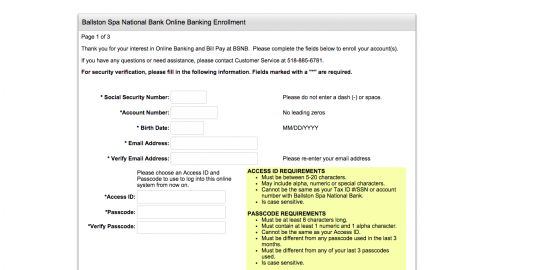 Finally, scroll down and enter 5 security questions and answers that you will remember in case you forget your passcode. Click the grey "Continue" button to wrap up with the registration.

Your Ballston Spa National Bank Credit Card is now securely activated.