Thinking of applying for the Ballston Spa National Bank Credit Card? Due to its annual fee of $0 and its generous rewards program, it may be worthwhile to read on to find out the easiest way to apply.
Keep in mind that preparing the relevant personal and financial information in advance can ensure a quick and painless application process.
Requirements
All credit cards unfortunately have requirements that one must meet in order to be deemed eligible. For the Ballston Spa National Bank Credit Card in particular, one must be:
Able to pass a creditworthiness check by Visa and its partners
A resident of the U.S.
In possession of a U.S. social security number
How to Apply
Follow these steps and you'll be finished your application in no time:
Step 1: Go to This Webpage.
Step 2: Get started by clicking "Apply Now". In case you would prefer completing the application by mail, click "Apply by Mail", print out the application, fill it in, and send it in the post to Ballston Spa National Bank.
Step 3: On the next page, decide whether this is an individual or joint application. A joint applicant can make transactions but is not held legally responsible for the balance on the card.

Step 4: This step may take a few minutes.
Beginning with personal information, give your:
Name
Mother's maiden name
Email
Primary and alternate phone number
Physical address
City, state, and ZIP code
Social security number
Preferred method of contact
Next, you must enter information from a piece of ID such as a Driver's license. Include the state it was issued in and its date of expiry.
Under 'Employment Information', input your:
Employer
Occupation and title
How long you worked there
The address of that place of employment
Do the same for your previous employer.
Finally, enter your monthly income and other income, and indicate whether you own, rent or live with family.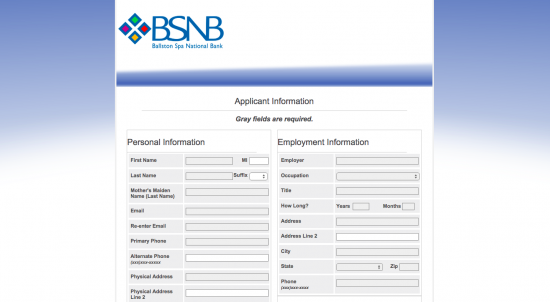 The final step is clicking the orange "Next" button. After confirming your information, you will find out whether or not you are a successful applicant for the Ballston Spa National Bank Credit Card.