The National Bank MC1 MasterCard is the perfect card for a student looking to build up a good credit rating. The credit limit starts at $500, allowing you to easily control your spending habits. There is no annual fee and the APR is set at a fixed rate of 19.99% for purchases and 22.99% for balance transfers and cash advances (APR is subject to change). This card also comes with MasterPass digital wallet which enables you to pay off your balance safely from your mobile device, tablet or desktop. On top of everything, you will receive an introductory rate of 3.9% for the first 6 billing cycles on all balance transfers and cash advances. All in all, this card is not easily recommended due to the fact that there are multiple other credit options available from National Bank with better interest rates and cash back/rewards programs to boot. Should you still be interested in applying, scroll down and review our tutorial below.
Take a moment to read National Bank's privacy policy to see how your personal information will be used.
Requirements
Before proceeding, make sure that you meet the following requirements:
You are the age of majority in the province where you reside
You are a Canadian citizen
How to Apply
Step 1- Click here to begin the application process. On the application page, enter the following information:
Title
First name
Last name
Email address
Confirm email address

Step 2- Review National Bank's terms and conditions and, if you agree to their terms, indicate your compliance by checking the small box located under the document window. Click Continue to proceed.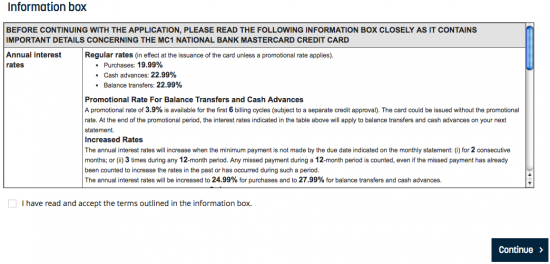 Step 3- Under the About You heading, provide your Date of birth, Telephone number, Social insurance number (optional) and your Mother's Maiden Name.

Step 4- Next, enter-in your Current address, Residency status and specify as to whether you have been living at your address for more than two years.

Step 5- The following data must be supplied regarding your employment information:
Whether you are salaried, self-employed, an employed student, an unemployed student, retired or unemployed
Employment status
Gross annual income
Name of employer
Occupation
Time employed
Work phone number

Step 6- Specify as to whether or not you currently hold an account with National bank at this juncture. Here, you can also request an additional card and/or perform a balance transfer

Step 7- The next page provides you with a review of all the information submitted so far. Be sure to check the data for accuracy before moving forward.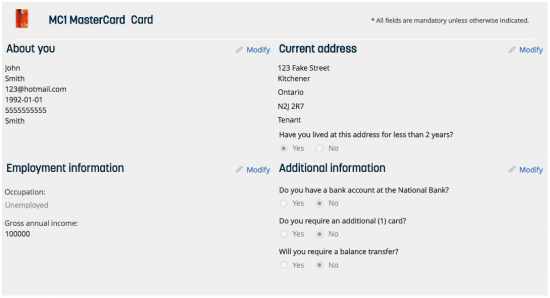 Step 8- There are three boxes here that will need to be checked-off before you can proceed. The first box is to provide consent to some general conditions, the second is to confirm that your information was provided accurately and the last is to prove that you are indeed a human. Click Submit and your application will be reviewed by National Bank.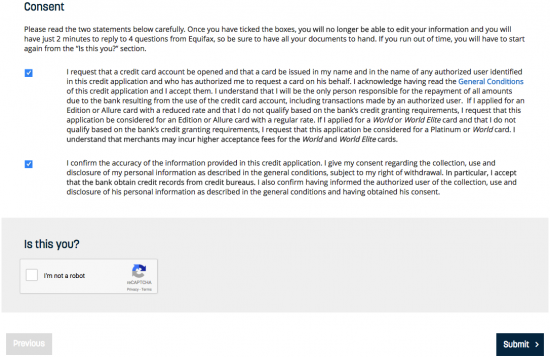 That sums up the application process. We here at Card Reviews have done our best to provide you with the most informative and direct tutorial available. Best of luck with your new card!