The National Bank Allure MasterCard is one that offers a variety of rewards programs and benefits to prospective cardholders. You can apply for the standard cash back card with an APR of 19.99%-22.99% (APR is subject to change) and no annual fee. If you're looking for a credit option with a lower APR then you might be interested in applying for the reduce rate cash back card, however this card come with an increased annual fee. There are also two Allure cards available with an À la carte Rewards Plan that can earn you points which you can put towards a variety of purchases, such as flights, car rentals, hotels, and boutiques. Regardless of the card you choose, the application process is simple and we've described it in detail within our tutorial below. Scroll down to get started.
Take a moment to review National Bank's privacy policy before proceeding.
Requirements
You must meet the following requirements in order to be eligible for this credit card:
You are the age of majority in the province where you reside
You are a Canadian citizen
How to Apply
Step 1- Click here to begin the application process. On the page that follows, scroll down and enter the following personal information
Title
First name
Last name
Email address
Confirm email address

Step 2- Review the terms and conditions for this credit card and check the small box at the bottom of the page to indicate your consent. Proceed by clicking Continue.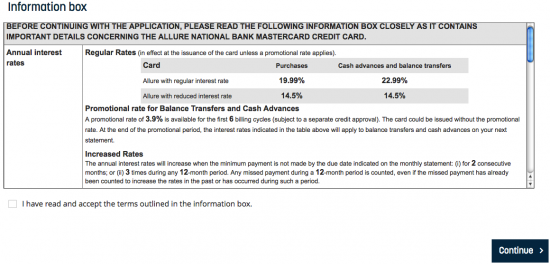 Step 3- Enter your Date of birth, Telephone number, Social Insurance number (optional) and your Mother's Maiden Name.

Step 4- Provide your address into the empty fields, including your Residency status and specify as to whether or not you have been living at this address for more than 2 years.

Step 5- You will need to provide the following details under Employment information:
Whether you are salaried, self-employed, an employed student, an unemployed student, retired or unemployed
Employment status
Gross annual income
Name of employer
Occupation
Time employed
Work phone number

Step 6- Indicate the type of card you would like to apply for by selecting one of the available options.

Step 7- Select Yes or No to specify if you have a National Bank account, if you would like an additional card or if you require a balance transfer. Click Continue once everything has been entered accurately.

Step 8- This page will display all of the information you've submitted up to this point. Go over the data carefully and check it for accuracy before proceeding.
Step 9- Select the first box to indicate your compliance with National Bank's terms. Below that, check the box to confirm that the information you've supplied is true and accurate. Lastly, check the box under Is this you? to prove that you are indeed a human being. Click Submit once all of the above steps have been accomplished and your application will be reviewed by National Bank.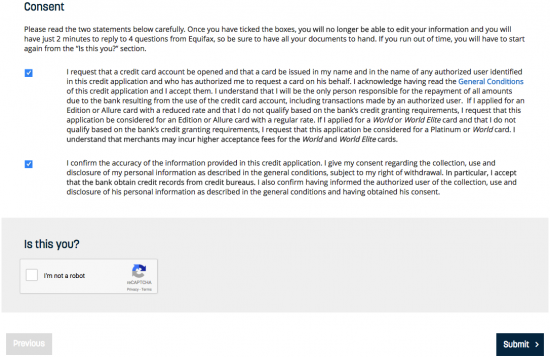 Hopefully you found this tutorial beneficial during your attempt to apply for this credit card. Good luck and thanks for choosing Card Reviews as your credit card expert.