If you reside in Canada and you'd like to obtain a new credit card, the National Bank Platinum MasterCard might be the right choice for you. This credit option is part of the travel series that is available from National Bank which enables cardholders to earn points that can be redeemed and put towards flights, hotel rooms, car rentals, and much more. This card has a fixed APR of 19.99% (APR is subject to change) and an annual fee of $125. While the APR is slightly high compared to other cards on the market, the annual fee is extremely high and I am hesitant to recommend this card based on that alone. However, if you plan on using this card to make the majority of your purchases, the points that you can earn may make up for the above average yearly fee. Should you still feel inclined to add this card to your wallet, we have provided a tutorial on the application process below. Scroll down to get started.
Take a moment to review National Bank's privacy policy before submitting any sensitive information into the online portal.
Requirements
You must meet the following requirements in order to be eligible for this card:
You are of legal age in your province of residence
You are a Canadian resident
How to Apply
Step 1- Begin by navigating to this webpage and scroll down to the Some basic information heading. There you will need to specify your Title, supply your First name, Last name and your Email address.

Step 2- Here you will need to review the terms and conditions for this credit card and indicate your compliance to them by checking the small box located at the bottom of your screen. Click Continue to proceed.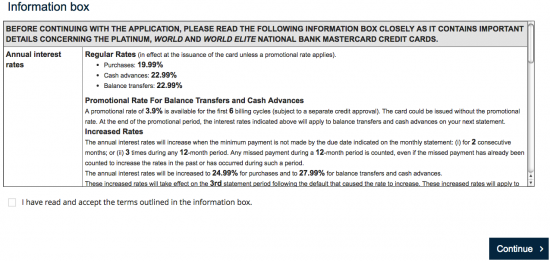 Step 3- On the next page, under the About You heading, supply your Date of birth, Telephone number, SIN (optional), and your Mother's Maiden Name.

Step 4- Continue by providing your full Current address and specify your Residency status. Below that, select Yes or No to let National Bank know if you have been living at your address for more than 2 years.

Step 5- Use the drop-down menu to specify your employment status. If you are employed, you will need to further describe your employment Status (full or part-time) and enter-in your Gross annual income, your Employer or Name of company and your Occupation. Below that, specify the amount of time you have been working for said employer and provide the associated Work telephone number.

Step 6- Under Additional information, specify whether you already have an account with National Bank, if you would like an additional card, and if you require a balance transfer. Once all of the previous information has been supplied, click Continue to proceed to the next page.

Step 7- A review of the information you've supplied has been displayed on this page. Check the data for accuracy before moving forward.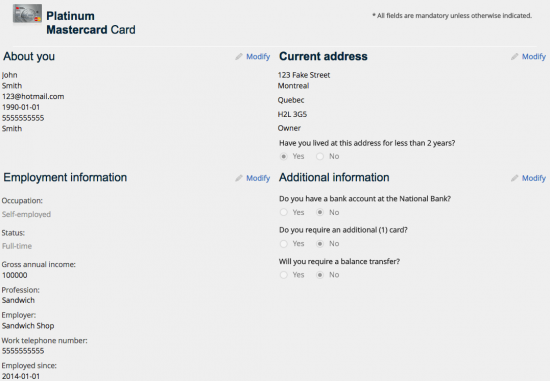 Step 8- Review the general conditions described in the last two paragraphs of this page and check each of the boxes to provide consent to National Bank's terms. Clicking Submit will mark the end of the application process and will submit your application in for review by National Bank.
That's all there is to the application procedure. We hope that you found this tutorial beneficial in your attempt to apply for the National Bank Platinum MasterCard. Thank you and good luck!