It you have recently acquired the National Bank Platinum MasterCard, it will need to be activated before it can be put to use. You will find the activation procedure described on this webpage as well as instructions on how to register for an account and log into the online portal. With an online account, you will be able to manage your credit card from any computer, tablet or mobile device. No longer will you need to wait in line at the bank as you can now perform the majority of transactions electronically from the comfort of your own home. In a matter of minutes you can pay off any outstanding balances, review your previous statements, update your personal information or transfer funds. Get started by scrolling down to our tutorial below.
Please review National Bank's privacy policy to get a full understanding of how your personal information will be used.
How to Login
To access your online banking account, navigate to this webpage and select the MasterCard tab. In the following window, enter your MasterCard No and Password. Click Sign In and you will be granted access to your personalized banking account.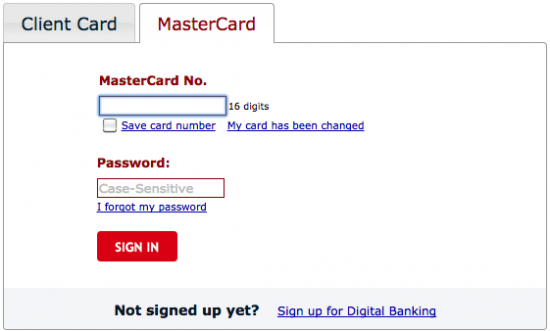 If at any point you forget your password, select the I forgot my password link found within the MasterCard login menu. On the next page, enter your Access card number, Expiration Date and Date of birth. Click Continue and navigate through the next few pages to retrieve your forgotten password.

Activation/Registration
Your card will need to be activated before it can be put to use. To activate, call the number posted above and follow the instructions provided over the phone. Once activated, click on the Secure registration link found next to the activation number to begin the process of creating your online account. In the MasterCard login menu, select the link titled Sign up for Digital Banking.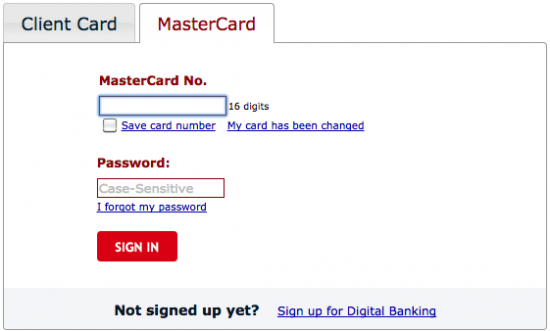 Some personal and banking information will need to be supplied on the next page. The required information is as follows:
Client card number
Expiration date
Type of account
Transit number and account number
Password
Confirm password
Date of birth
Email address
Confirm email address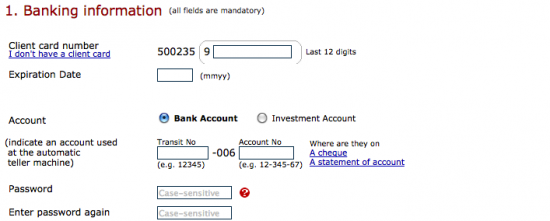 Review National Bank's user agreement before checking the small box at the bottom of this segment to indicate your compliance with their terms.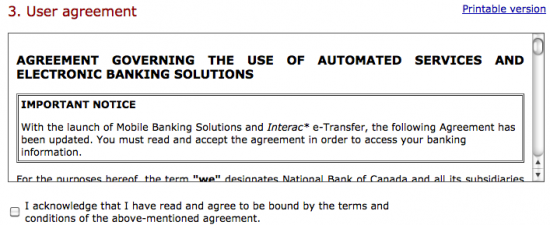 By default, your bank statements will be sent to you electronically at no cost. However, you can choose to receive paper statements through the mail by selecting Paper by mail in the Statement options. Note that additional fees may be required when electing to use this method of delivery. Just below that, read through the electronic communications terms and conditions and check the small box located at the bottom of your screen to provide consent to National Bank's terms. Once each of the above steps have been completed, click Submit to finalize the enrollment process and your online account will be ready for your banking needs.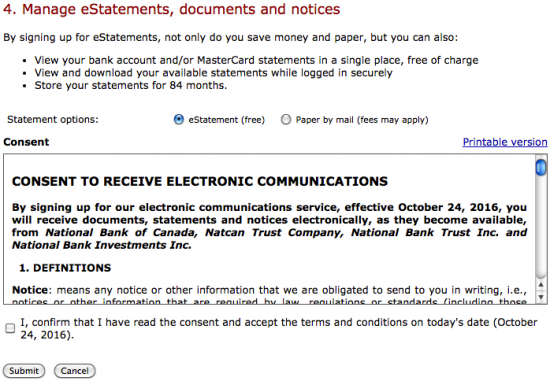 Thank you for choosing Card Reviews as your credit card expert. We wish you the very best with your newly created online account. Happy banking!