Welcome to the cardreviews.org login guide for the National Bank Ultramar MasterCard, where you can learn how to access your account online for your newly activated card. If you aren't already banking with National Bank, and you simply applied for one of their credit cards, it will be absolutely necessary for you to activate your new MasterCard before you can sign up for their online banking portal. Enrolling in online access is worth your while, as it means being able to manage your bills, statements, transfers and rewards at your own convenience using any of your internet-connected devices. Continue reading down the page for more information on how to properly manage and take full advantage of yourNational Bank Ultramar MasterCard today.
Read the National Bank privacy policy before you enter your personal information on any of the forms shown in the examples below.
How to Login
Go to this page, locate the window pictured below, and then click Login to navigate to the MasterCard login page.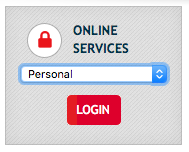 Select the MasterCard tab on the linked page, as opposed to the default Client Card tab.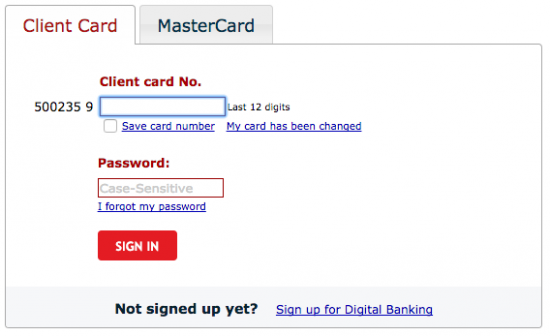 Enter your MasterCard No. and Password where indicated in the MastCard login tab, and then click Sign In.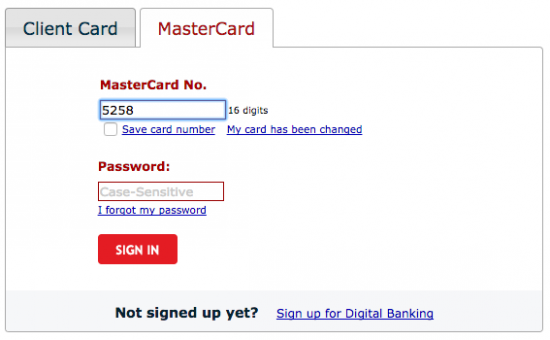 If you do not remember your password, click I forgot my password found beneath the Password field. Clicking this link will take you to the page pictured below, where you will enter the following where indicated:
Access card number
Expiration date
Date of birth

Click Continue when you have finished filling the three different fields and go to the next page where you will need to provide more security info to be able to set a new password and access your account.
Activation/Registration
If you've just received a new National Bank Ultramar MasterCard in the mail and have not yet activated it, unfortunately you will not be able to so over the internet at the moment as the National Bank has not yet provided such a service. Above you will see that we have supplied the the National Bank MasterCard customer service telephone number, which you can call to activate a new card. To enroll in online banking, you can click the Secure registration link posted above to access the internet banking enrollment page. You will need to supply the following information to be able to access your account:
Client card number
Expiration date
Account type
Password (create your login password)
Date of birth
Email address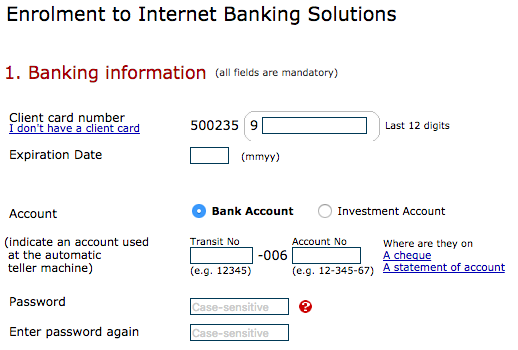 You will be asked to read the User agreement regarding permissions, ticking the indicated box when you are finished if you 'agree'.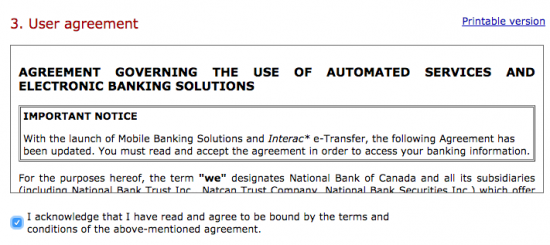 Next, beside where it says Statement options, select whether you would like to sign up for eStatements or would rather get your statements in the mail. Before clicking Submit, you must read the terms and conditions regarding receiving electronic communications and tick the little box that states I, confirm… When you have completed these steps, you may click the Submit button to finish your enrollment.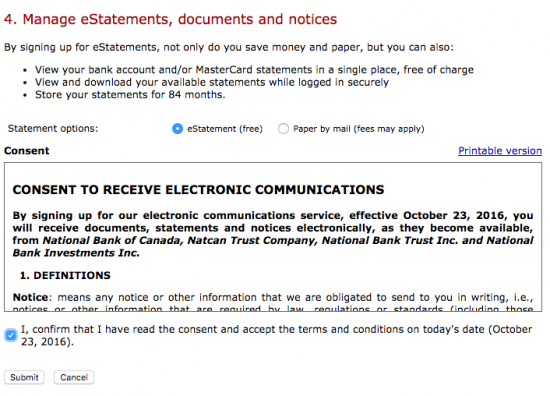 After completing the enrollment process, you should be able to access your account using your password and card number. Enjoy your new convenient online access to your account, and thanks for visiting cardreviews.org!