Regular customers of Ultramar may be interested in the National Bank Ultramar Mastercard because it is a credit card option that gives cardholders rebates on Ultramar gas and heating oil. Users of this card will not only receive up to 2.5% rebate each year on Ultramar gas purchases and a 2.5% annual rebate on Ultramar gas purchases and Home Heating services, they also get up to 1.25% rebate each year on all other purchases. Although the APR for purchases is 19.99%, anyone spending a significant amount of money as an Ultramar customer could still notice significant savings (APR is subject to change). Scroll down to learn how to apply for the National Bank Ultramar Mastercard online.
We have posted the National Bank privacy policy to be reviewed before entering your private information into the banking portal.
Requirements
To apply for this card you must meet the following requirements:
You are a Canadian resident
You have reached the age of majority (18 or 19 years old depending on your province)
How to Apply
Step 1- Navigate to the page pictured below by clicking here and, once on the card summary page, click the red Apply link to get redirected to the application form.

Step 2- The application process will differ depending on whether or not you are existing National Bank customer. For those of you with a National Bank account, click Login or Sign-Up Now to apply using your existing account. If you are a new client, click the Apply Now link to start your application.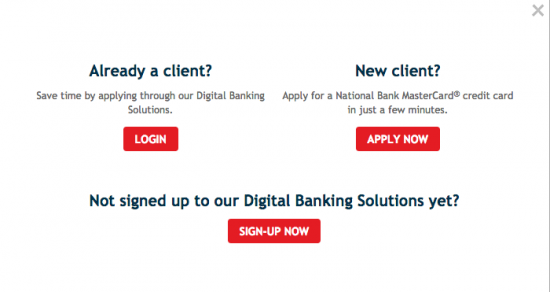 Step 3- Begin your application by navigating to Some basic information and entering the following information as indicated:
Title
First name
Last name
Email address

Step 4- Before you continue, you will need to read to the terms and conditions and indicate that you comply with them by ticking the little box. When you are ready, click Continue.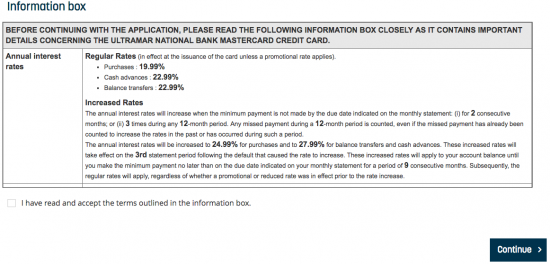 Step 5- On the second page of your application, enter the following required personal information at the top of the form:
Date of birth
Telephone number
SSN (optional)
Mother's maiden name

Step 6- Next, supply the following information regarding your address and housing status as needed:
Street number and name
City
Province
Postal code
Residency status
If you have lived at this address more than 2 years

Step 7- Let the National Bank know more about your situation by providing your Employment status, Gross annual income, and Gross annual household income in the field seen in the below example.

Step 8- Select Yes or No to indicate whether or not you have a bank account at the National Bank. In the same manner indicate if you would like to add an additional cardholder and if you require a balance transfer. Click ​Continue when ready.

Step 9- Proofread all the information that you have entered and correct any mistakes. When you have accomplished this, read the two statements at the end of your application and tick the little boxes beside them to provide consent. Click ​Submit to finish off the application process.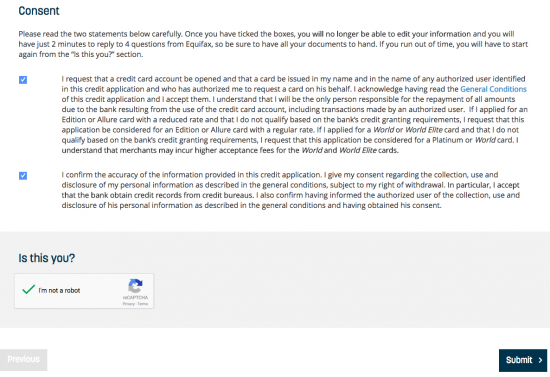 You should receive a confirmation and response regarding your application from National Bank shortly. We hope this guide has been helpful and wish you luck on behalf of cardreviews.org.