The National Bank Platinum Business MasterCard is a fairly standard credit option that has a few perks to entice business owners. When compared to the standard National Bank Business MasterCard, you will notice that the platinum edition has a rewards program that will enable you to earn 1.5 points for every dollar spent (as opposed to 1 point/$1 spent). These points can be redeemed and put towards hotel rooms, flights, car rentals, and a variety of other forms of merchandise and entertainment. You will also receive a rebate of up to 2.5% each time you use your MasterCard at Ultramar gas stations. On the down side, this card has an annual fee of $125, which is the highest among all of the business cards available from National Bank. However, with an APR of 19.99% (APR is subject to change) and a few benefits to make up for the high annual fee, this card is definitely worth looking into. Scroll down to our tutorial below to learn how you can apply.
Take a moment to review National Bank's privacy policy to learn how your personal information will be used.
Requirements
In order to be eligible for this card, the following requirements must be met:
You are of legal age in your province of residence
Your business is a Canadian entity
You are a Canadian resident
You are the owner of the company or the authorized signatory
How to Apply
Step 1- Start by navigating to the card summary page by clicking here. On the left hand side of your screen you should see some information regarding this credit card. Select the Apply tab to proceed.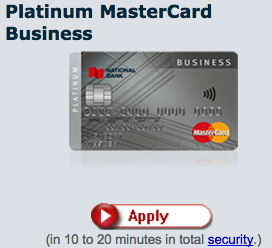 Step 2- On the following page, enter your promotional code (if applicable) and specify your credit limit. Note that if you are applying for more than one card, the credit limit will be shared among all cards issued.

Step 3- Scroll down to the Information about the requesting company heading. Here you will need to provide the following information regarding your business:
Type of business
Is your organization registered with the CRA? (y/n)
CRA number (if applicable)
Does your organization solicit charitable donations from the public? (y/n)
Business name to appear on the card
Legal name of the requesting company
Nature of company activities
Annual revenue
Date business operations commenced
Number of employees
Is the company a shareholder of an affiliated business? (y/n)

Step 3- Continue scrolling down to the next heading and enter your complete business address as well as the associated phone number before proceeding.

Step 3- Next, you will need to enter-in your banking information. The required data includes the following:
Main financial institution
Account number
Transit number
Street address
City
Province
Postal code
Once all of the above information has been supplied, click Continue to proceed to the next page.

Step 4- Under the Personal information heading, the following details must be provided:
Indicate your title
Last name
First name
Date of birth
Language of correspondence
SIN (optional)
Mother's maiden name
E-mail address

Step 5- Here you will need to provide your current address as well as your Residential Status and Home telephone number. Select Yes or No to indicate whether you have been living at the address for more than 2 years.

Step 6- Uner Financial situation, you will need to provide the following information:
Personal gross monthly revenue
Total personal assets
Total personal liabilities
Personal net worth
Are you the company owner? (y/n)
Percentage of the business owned
Are you liable for debts incurred with a third party? (y/n)
If yes, specify whether it is business or personal and indicate the amount owed and the creditor's name

Step 7- Select Yes or No to indicate your employment status. If you are employed, supply your employer's name, specify the amount of time you have been working for said employer and specify your occupation. Below that, enter-in your total gross monthly income and the name of your previous employer and occupation. Once everything has been entered, click Continue to proceed.

Step 8- Here you can add an additional card holder and/or consolidate your previous balances by performing a balance transfer. Check the small box located at the bottom of the page to indicate your compliance with National Bank's policies. Click Continue when you are ready to proceed.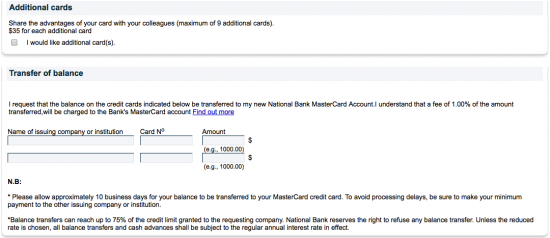 Step 9- This page will provide you with a review of all the information supplied so far. Go over the data and check it for accuracy before proceeding.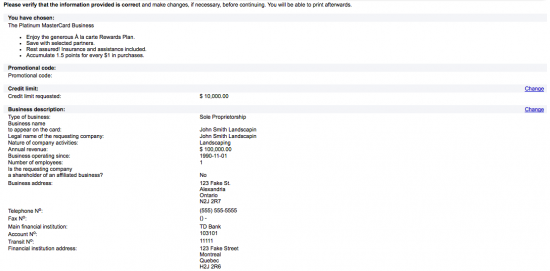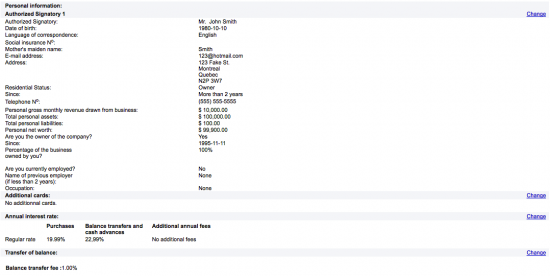 Step 10- At the bottom of the page, you will see the terms and conditions for this credit card. Read them over carefully and, if you agree to National Bank's terms, click I agree. Click Submit to complete the application process and your card request will be sent in for review by National Bank.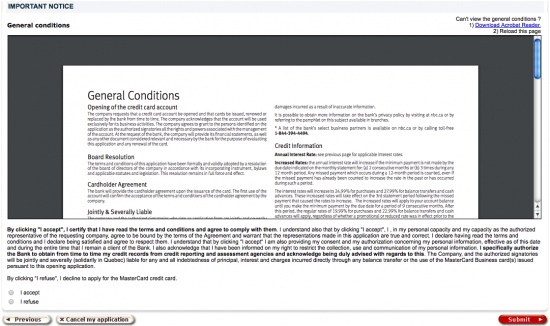 We here at Card Reviews have done our best to provide with as much information as possible in order to assist you through the application process. Best of luck with your new National Bank Platinum Business MasterCard!