The Banana Republic Credit Card is a rewards card which, as one could probably assume, is catered to those who frequently shop at Banana Republic. It may appear to the laymen as a desirable acquisition to any wallet, however, we would warn against getting within ten feet of this particular credit card. The card-issuer has attempted to bait the avid shopper by promising 5 points/dollar for in-store purchases and 1 point/dollar on everything else, which seems attractive until you become aware the 24.99% APR. This interest rate is well above the average and is one that should cause a number of red flags for anyone shopping for a fair and reasonable credit card. Furthermore, if you don't qualify for the Visa option (see terms and conditions), you will be stuck with a less advantageous store credit card which has even greater limitations. If you're still interested in applying, we've compiled a step-by-step tutorial below which will take you through the online application process. Proceed at your own risk.
Before you apply for this card, issued by Synchrony Bank, take a look at the card-issuer privacy policy as it will give you an indication of how they will share/use the information you submit.
Requirements
Be 18 years old
Have a US street address
Have a valid Social Security Number
How to Apply
Step 1- Begin by navigating to this webpage which will present you with the application. The specific information required is as follows:
Full Name
Address
Phone number(s)
Email address
Annual net income
Length of time at current address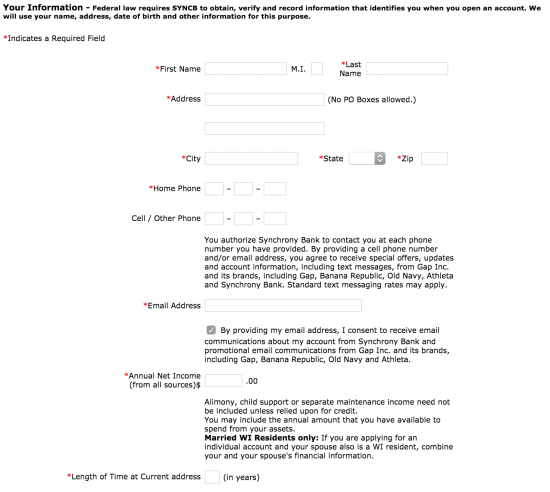 SYNCB reserves the right to contact you at each and every number and address provided, keep this in mind.
Step 2- This step requires you to surrender sensitive information, which will include the following:
Date of birth
Social security number
Mother's maiden name

Step 3- At this point you must simply choose to receive your statements electronically or by mail. Those who opt for electronic delivery will receive 500 bonus points out of the gate.
Step 4- Synchony Bank now asks you, before finalizing your application, to review the Terms and Conditions one final time before assenting to owning a Banana Republic Credit Card. If you consent to the terms and the additional conditions listed at the bottom of the page, simply click the box signifying that this is true and submit your application.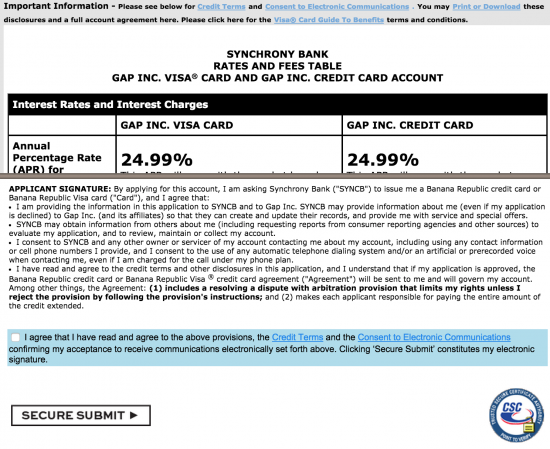 The results of your application should arrive shortly. We hope that this tutorial has helped shed light onto the dangers of this credit card while still supplying sufficient information on the application process for those of you willing to take the risk. Take care!