If you're a regular Speedway customer, odds are that you already have a Speedy points card. Although this is a fantastic points card, you will earn even more rewards points should you decide to acquire and utilize the Speedy Rewards MasterCard. In addition to the standard Speedy rewards of 20 points per dollar spent in-store and 10 points per dollar spent on fuel, you will earn 50 points per dollar spent at Speedway stores and stations, (or 10 points per dollar on all purchases). Not only that, but you will receive 25,000 bonus points if you spend $500 within the first 3 billing periods of your account opening. The APR for this card is assigned based on your credit score and ranges from 16.24% to 23.24%. We recommend that you check your credit score before applying to be sure which APR you will qualify for (APR is subject to change). If you'd like to apply for the Speedy Rewards MasterCard, you can follow our guide below which will walk you through the online application process.
This card is issued by First Bankcard, which is a division of the First Bank of Omaha. Before you submit your personal and financial information, take a look at their privacy policy.
Requirements
To be eligible for this credit card you must meet the following requirements:
Be at least 18 years of age
Have a valid US mailing address
Have a US SSN
How to Apply
Step 1 – To start your application, go to this page and click the Apply Now link.

Step 2 – Now, enter all of the information listed below where indicated.
Speedway store # (optional)
First name
Last name
Complete physical address (including city, state, and ZIP code)
Home phone number
Email address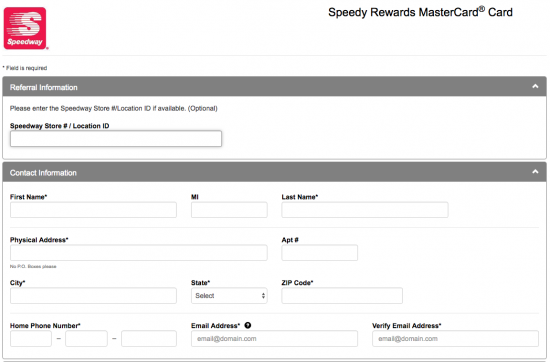 Step 3 – Next, you will be required to enter all of the following personal and financial information:
Date of birth
SSN
Mother's maiden name
Years at current address
Housing status
Monthly rent/mortgage payment
Present employer
Business phone number
Total annual income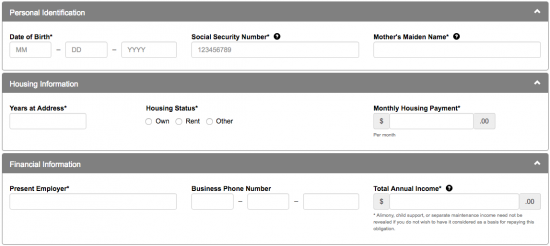 Step 4 – In this step, beneath Balance Transfer, you have the option to consolidate your balances onto one bill. Next, you can add additional users by entering their full name in the Authorized User section. Select your desired card design from the pull-down menu, and click Continue to proceed to the last step.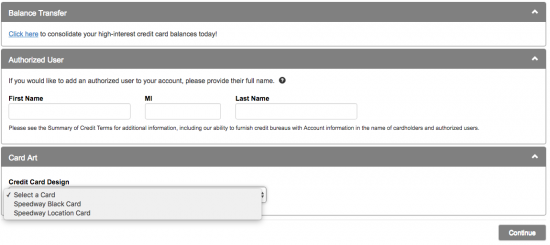 Step 5 – Review the all of the information that you have input into your application to make sure that it is all correct. If everything checks out, read through the terms and conditions, check the box to indicate your acceptance, and click Submit.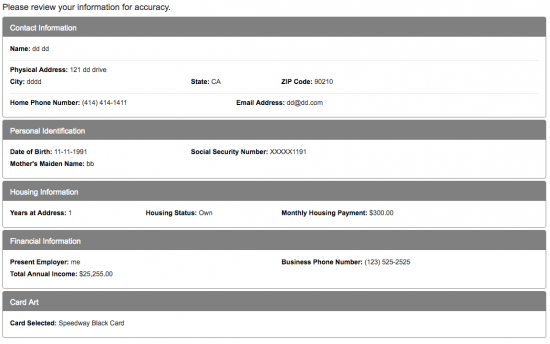 Congratulations! If you made it this far, you have completed the application process. We hope that our guide has been helpful for you today, and wish you the best of luck in all your financial endeavours.