The Best Western Rewards Mastercard is one that favors those who's time spent travelling seemingly exceeds their time spent at home. Whether it's for business or pleasure, this card offers 13 points per $1 spent on Best Western stays, has no annual fee and offers 0% APR for the first 6 billing cycles. Within those first 6 months, you'll the opportunity to gain a total of 20 000 bonus points if you use your card effectively. If this is enough to entice you, take a look at our application guide while you mull over your options. We've also included a table to compare Best Western's four Mastercard options directly below.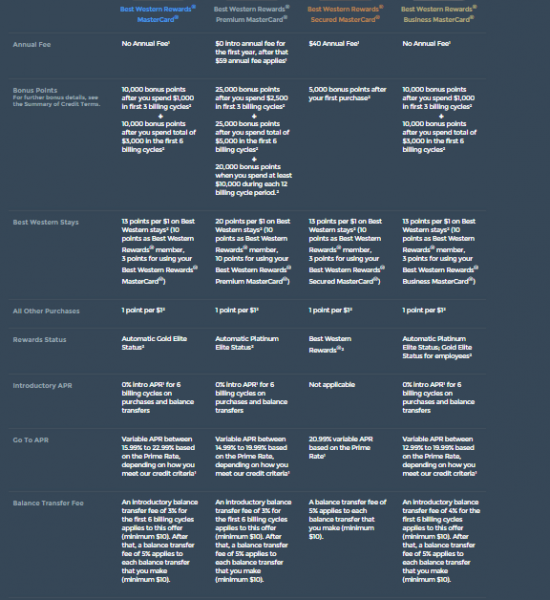 We highly recommend reviewing the privacy policy provided by First Bankcard before entering any information into the website.
How to Apply
Navigate to the card summary page for Best Western Mastercards and select Apply Now under the Reward option to be presented with the application forms.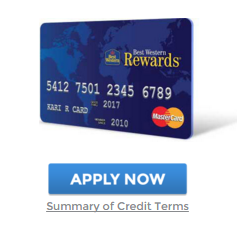 Step 1-Contact Information
You'll first want to start by entering in the following contact information:
First name
Middle Initial
Last Name
Physical Address
Apt #
City
State
ZIP Code
Home Phone Number
Email Address

Step 2-Personal Information
Following Contact Info, enter in this data:
Date of Birth
SSN
Mother's Maiden Name

Step 3-Housing Information
You will then be asked to provide this information on your housing situation:
Years at Address
Housing Status
Monthly Housing Payment

Step 4- Financial Information
The following data will be needed under financial information:
Present Employer
Business Phone Number
Total Annual Income

Step 5- Authorized user
If you'd like to add an authorized user, enter in their full name as displayed below.

Step 6-Balance Transfer
If you'd like to transfer the balance of a higher interest credit card click on the link highlighted in blue to do so.

Step 7-Terms and Conditions
If you assent to the terms and conditions, check off the box indicating your acceptance and click Submit to finish your application.