The Best Western Secured MasterCard was created to offer those who need it an opportunity to rebuild their credit score and, in as early as 11 months, gain access to an unsecured credit card. They require a security deposit upon application which will dictate the credit limit of your MasterCard. To see the deposit agreement, click here. Because this favors those individuals with a lower credit score, consequently the APR is set at 20.99%. However, you will still have the opportunity to take advantage of their rewards program which offers 13 points per dollar spent during Best Western stays. If you feel like this may be a practical option for you, scroll down and we'll walk through the application process together.
Before entering in any sensitive information into their website, review the First Bankcard privacy policy.
How to Apply
Find your way to the Best Western MasterCards card summary page by clicking on this link. Seek out the card displayed below and click Apply Now.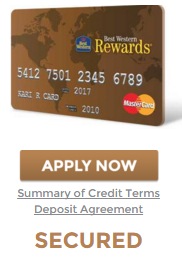 Step 1-Contact Information
Enter in this contact information first:
First name
Middle Initial
Last Name
Physical Address
Apt #
City
State
ZIP Code
Home Phone Number
Email Address

Step 2-Personal Information
Submit these few pieces of data:
Date of Birth
SSN
Mother's Maiden Name

Step 3-Housing Information
This housing information will then be required:
Years at Address
Housing Status
Monthly Housing Payment

Step 4- Financial Information
The following data will be needed under financial information:
Present Employer
Business Phone Number
Total Annual Income

Step 5- Authorized user
An additional card user can be easily added as shown below.

Step 6-Secure Card Deposit Information
Here is where you'll be required to provide your security deposit which will dictate your credit limit. The following information will be necessary before continuing:
Deposit Amount
Account Type
Routing Number
Account Number

Step 7-Terms and Conditions
Finally, review the terms and conditions on the secondary page, check accept if you do, and effectively send your application in for review.