If you're business requires you to be on the road nearly as much as you're needed at the office, you may want to consider the Best Western Business MasterCard as a contender for you wallet. For each dollar spent at a Best Western location, you will be rewarded with 13 points automatically. On top of that, it demands no annual fee and boasts the lowest APR of all Best Western MasterCard options (depending on your credit worthiness) which you won't have to pay for the first 6 months for purchases and balance transfers. If all this interests you, please, read over our application guide to familiarize your self with the process before making any drastic decisions.
We recommend reading over the privacy policy before submitting any information onto the online portal.
How to Apply
To view the application forms, follow this link to the card summary page and click Apply Now under the Business MasterCard option.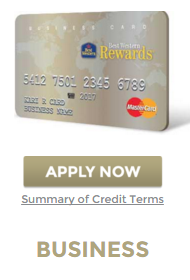 Step 1- Company Information
You will now be asked to enter in the following information pertaining to your company:
Business Name
Tax ID Number
Phone Number
Physical Address
City
State
Zip Code
Comapny Name Displayed on Card
DUNS Number
Company legal Structure
Line of Business
Step 2-Mailing Address
Enter in your mailing address next. This will include the following data:
Mailing Address
City
State
Zip Code

Step 3-Financial Reference
Enter in the following information referencing your financial status:
Bank Name
Checking Account Balance
Bank Contant
Phone Number

Step 4-Authorized Company Representative Information
You will now submit this data relating to the company's representative:
First Name
Last Name
SSN
Physical Home Address
City
State
ZIP code
Date of Birth
Home Phone NUmber
Authorized Representative Title
Annual Personal Income
Years at Current Position
Estimated Annual Spend
Email Address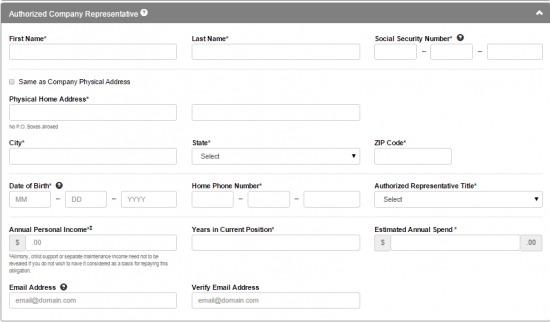 Step 5- Additional Employee Cards
You will be presented with the option for additional cards to be added to the account for select employees. Enter in each employees full name as well as the last four digits of their SSN if applicable.

Step 6- Terms and Conditions
Review the Terms and Conditions if you haven't done so already and if you agree with them, check off the box before clicking Submit to have your application sent in for review. Good luck!