This webpage has been created to provide insight into the application procedure for the NFIB Business Edition MasterCard Card. You will find that this business card has both competitive percentage rates and a strong rewards program that can earn you bonus on day-to-day purchases. There are three APRs available, 13.24%, 15.24% and 20.24%, and the APR that you will receive will be based on your creditworthiness (APR is subject to change). The points you can earn are at their highest when purchasing NFIB products, where you can earn 5 points per $1 spent on all NFIB membership transactions. From there, the points reduce to 2 points per $1 spent on business expenses and 1 point per $1 spent on all other qualifying purchases. If you're looking for a card with a decent APR and a great rewards program (especially for NFIB members) then the NFIB Business Edition MasterCard Card could be the right choice for you. Scroll down to our tutorial below to learn how you can apply.
This credit card has been issued by First Bankcard. Review their privacy policy to see how they will be using your personal information.
Requirements
Be sure that you have met the following requirements before proceeding:
You operate a business within the United States
You reside within the United States
You are at least 18 years of age
You have a valid SSN
How to Apply
Step 1- Start by clicking here to access the enrollment page. There you will be able enter your NFIB Member ID (if applicable). After that, you will need to supply the following company information:
Business legal name
Tax ID number
Phone number
Address
City
State
Zip code
Company name
DUNS number
Company legal structure
Line of business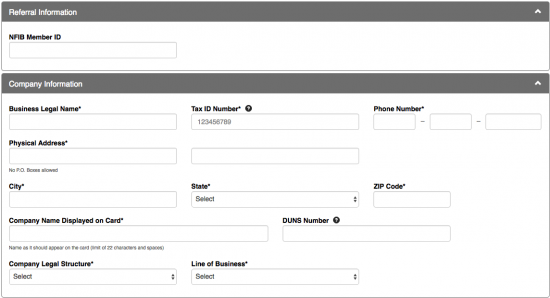 Step 2- Next, you will need to supply your company's mailing address. If it's the same as the company's physical address, check the small box above the mailing address field.

Step 3- Supply the company's financial reference. Start by supplying the Bank Name followed by the Checking Account Balance, Bank Contact and Phone Number.

Step 4- Here you will need to supply the personal information of an authorized representative. The data will include the following:
First and last name
SSN
Physical home address
City
State
Zip code
Date of birth
Home phone number
Business title
Annual personal income
Years in current position
Estimated annual spending
Email address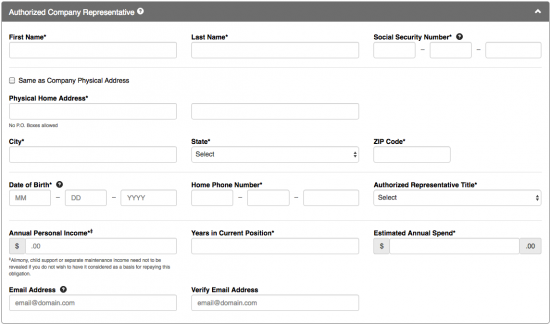 Step 5- At this juncture it will be possible for you to add an additional user to this credit card. You can do this by entering an individual's First Name, Last Name and Employee ID or Last Four SSN. Click Continue once you've entered everything correctly.

Step 6- The following page provides you with a review of all the information supplied so far. Make sure everything has been provided accurately before proceeding.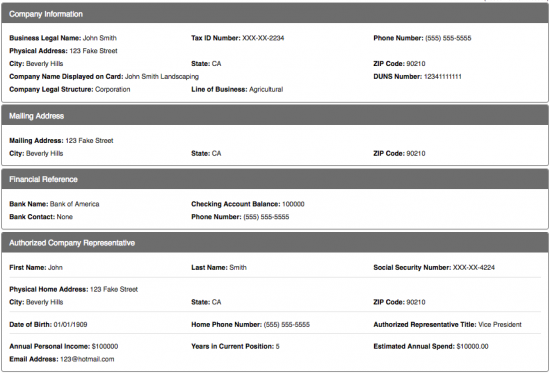 Step 7- At the bottom of your current page, you will need to check off the small box to indicate your compliance to First Bankcard's terms and conditions. Click Submit to send you application in for review and await confirmation. This step marks the end of the application process. We hope you found our tutorial helpful and we wish you all the best with your new credit card!